How To Use Instagram As A Platform For Brand Promotion
Updated on: 22 October 2021
Whether you are an Instagram addict or an occasional browser of the app, there is no denying that Instagram is one of the world's most widely used social media apps. With over a billion users worldwide, there are plenty of opportunities for companies to capitalise on and reach out to a global audience.
Moreover, the options available are staggering. From Instagram Stories to Instagram ads, there are tons of avenues for organisations to raise brand awareness. Businesses can even engage with their followers directly and figure out their preferences through interactive online polls, thus allowing them to cater their following content to suit their audience's preferences.
As such, it is not surprising to learn that Instagram is saturated with content regularly competing for consumers' attention. Fundamentally, standing out on Instagram will depend on how you implement your online marketing strategy, how valuable your content is, and how well you utilise the given tools. If these three criteria are met, you will find it a lot easier to impress your prospects and convert them into paying customers.
However, fulfilling all these criteria is easier said than done. So how can you use the tools Instagram has to maximise your social media marketing strategy? Let us take a look.
Instagram marketing tips that are crucial for brand promotion
It is easy for every company to get their marketing content out to a global audience with an Instagram business account. Whether the target audience will respond is a separate matter. As such, you will require a solid marketing plan to generate content that your audience would enjoy. Let us share a few pointers you should keep in mind during the content creation process.
1. State your goals clearly
Every brand has its own marketing goals. So the question is: what is your company specifically looking for? Are you looking to:
Create an online presence for your business?
Improve brand awareness?
Gain new leads?
Establish your brand?
You can even share several goals and formulate a single marketing strategy that fulfils all your aims. However, to accomplish your goals, you must first know what you want to achieve with your approach.
2. Know your target audience
It is advisable to conduct a little research on Instagram before you begin your marketing campaign, so you can gain a deeper insight into whether your target audience is active on the platform. Napoleoncat.com has plenty of interesting stats about Instagram. Here are some of the most eye-catching and relevant statistics:
As of February 2021, there are 2,450,000 Instagram users in Singapore.
The majority of Instagram users are female, comprising 55.2% of the user base.
The largest user group consists of those aged 25 to 34.
However, this does not mean Instagram marketing is only suitable for businesses with a target audience aged 25 to 34. If your content is solid and can connect directly with your audience, you can achieve the desired effect as well. To achieve this, you would first need to define your target audience.
3. Optimise your profile
First impressions are crucial and can make or break your brand's Instagram profile. Moreover, you only have around 150 characters to cover your brand personality and why people should follow your Instagram account.
Given the limitations, it might sound like mission impossible, right? Well, fret not. You can actually use the other fields provided by the app to showcase your brand and make it easier for people to find you. Some of these options include:
Name: Limit of up to 30 characters.
Username: The handle you use. It also includes the 30 characters limit.
Website: You can include a URL to your company's website under the following field.
Category: A business feature to let consumers know what your brand is about.
Contact info: Inform your target audience how they can contact your business.
Action button: This allows you to offer your followers a way to directly interact with you through your company's Instagram profile page.
4. Choose a suitable profile photo
Companies typically utilise their corporate logo for their Instagram profile photo. Choosing the right profile photo is paramount as this image will be the first thing consumers see when they visit your profile. As such, your brand logo has to be aesthetically pleasing and impressionable, so your target audience can immediately recall your company once they see the associated image. Moreover, having your corporate logo as a profile photo also lends the account creditability.
5. Create aesthetically pleasing content
Instagram is a visual-based social media platform. As such, the image or video you post is often the emphasis, with the caption serving as a complement to the visuals rather than the focus. Therefore, every video or image you upload has to look presentable. As a rule of thumb, you must ensure they are clearly focused, well-lit, and well-composed.
If your post contains infographics or animations, they should be easy-to-read, eye-catching, and straightforward. As the adage goes, "a picture is worth a thousand words", so you have to ensure the visual content is compelling to capture the audience's attention.
6. Utilise Instagram Stories
Instagram Stories is a popular tool among businesses. In fact, Instagram Stories generated by brands are among the most viewed content on the app. Therefore, you shouldn't overlook this key marketing tool and the power of timing during your marketing campaign.
While Instagram Stories are temporary and only last for 24 hours, they are a more organic way for you to connect with your followers and build a relationship with them instead of a created Instagram feed.
However, before you begin creating your Instagram Stories, here are a few key questions you should keep in mind:
What is the message you wish to convey to your followers?
How can you get the message across within the first three seconds?
What valuable information do you want your followers to gain after viewing the content?
How do you compel your followers to patronise your products and services?
How can you establish a voice and aesthetic that is unique to your brand?
7. Use stories highlights and covers to boost your bio

If you do not want your top Instagram Stories to disappear within 24 hours, you can create highlight albums to preserve them. These albums are located right under your bio, and you can even create your own covers for each story. When utilised correctly, this adds a whole section to your bio and gives your target audience more details on your business and why they should be your follower.
8. Use the right hashtags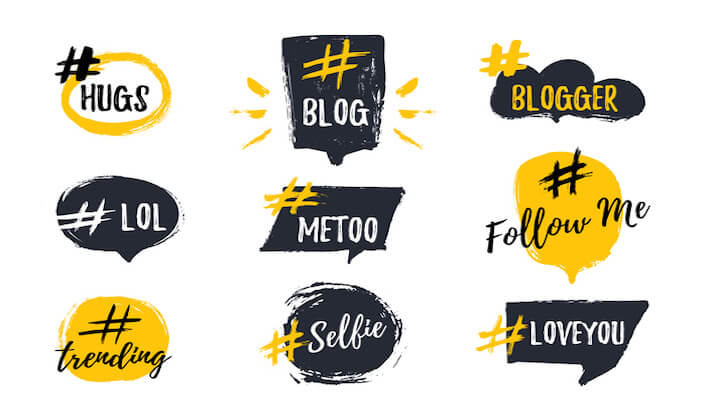 Hashtags are a great way to establish a brand association. There is even an excellent chance of going viral with the right hashtag, allowing you to direct even more traffic to your Instagram page. However, you should avoid including too many hashtags in a single post, as it may end up looking like a spam post, which will turn your followers off.
It is advisable to select hashtags that are:
Relevant to the posted content
Specific to your field/industry
9. Experiment with Instagram Reels
Instagram introduced a new feature called Instagram Reels in 2020 to capitalise on the growing popularity of TikTok, giving digital marketers another tool in the arsenal to stand out from the crowd.
This tool is versatile, providing you with options to edit or add the following features into your content:
Audio
AR effects
Timer and countdown
Align
Speed
If you are creating a video with a voiceover or dialogue, you can even add captions to them, which is helpful for viewers who are watching without sound or those who are unable to decipher specific portions of the audio.
10. Engage and interact with your followers
If you want fans to engage with your brand, you will have to initiate the conversation. Posting unique content is essential, but it is only one half of the equation. Interacting with your followers is a brilliant way to endear yourself to them, making you seem more friendly and less of a corporation in the eyes of your followers.
Try to find the time to respond to a few of the comments on your feed. In particular, you should target the more popular commenters by liking their comments, following their Instagram accounts, and responding positively to their posts. You can even go a step further and pin comments that are likely to initiate conversations, which will, in turn, stir up more engagement on your posts and pages.
Study the analytics to refine your marketing strategy
There is always room for improvement. Looking through the performance of your past marketing campaigns can allow you to better understand where the campaign succeeded or failed. If you stay stagnant, you will eventually be overtaken by your competitors.
Instagram Insights is an excellent analytical tool to measure your marketing campaign's performance, as it provides you with the audience engagement rate for all your content, whether it is specific posts, stories, or reels.
Other cool features include:
Recent highlights: Gives you information on any significant increase in your account performance in a selected timeframe within the past 90 days.
Overview: Shows the total number of accounts reached, interaction through content, and followers for the past 90 days.
Accounts reached: This gives you the total number of accounts that your content has reached. It also gives you a visual breakdown of the reach you have achieved for both followers and non-followers. Your reach is sorted by content types, such as top posts, stories, and reels. You can also view the number of users who have visited your page. If you have included an action button on your profile page, you can see the number of people who have accessed this feature.
Content interactions: Provides information on the interactions that happened within your posts, stories, reels, and videos. Interactions include likes, comments, saves, shares, and replies to your content.
Total followers: This feature is only accessible when you have at least 100 followers. It provides a detailed breakdown of the followers you have gained or lost, the top locations of your followers, their age range, and when they are most active on Instagram.
Conclusion
A successful Instagram marketing campaign is more than just captivating your audience with exciting content. You have to focus on making a lasting impression on your target audience when they visit your profile page.
The most important questions you have to ask yourself are:
What will make your target audience revisit your page?
How can you align your branding with their interests to draw their attention constantly?
It is not just about posting content regularly; it is also about the strategy you utilised. By answering these key questions, you can better tweak your marketing campaigns to achieve your goals.
However, if you notice your marketing strategies are not achieving the desired results, you may want to seek the professional view of an experienced Digital Marketing Agency. At Impossible Marketing, our team has handled a portfolio of clients ranging from various industries. So if you require help to fine-tune your marketing campaign, do not hesitate to reach out to us at 6208 8111.