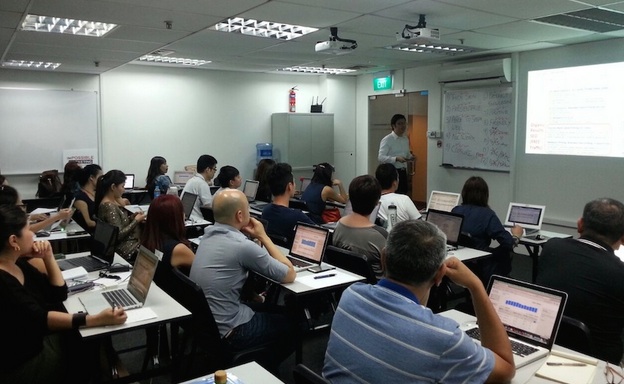 "If you don't build your own dream, someone else will hire you to build theirs." – Tony Gaskins Jr
Yes, we all know the advantages of starting an online business (no rental fee, no employees required, flexible working hours, minimum capital, work from the comfort of your home or anywhere in the world and many more).
The truth is, many online businesses still fail today. Below are some of the reasons why:
They do not know what their customers are looking for (no market research done).
They have the ability to build the most beautiful websites and procure an inventory of the cheapest products but are unable to get customers to visit their website.
They spend too much on high-cost advertising.
At Impossible Marketing, we have helped many individuals succeed in building their online businesses and achieve their dreams to be an entrepreneur. Most of them are complete beginners and have never started any online businesses or built any websites before!
Student testimonials
"Within 1 month plus, my website is ranked #1 and #2 in Google. I manage to get lots of leads and customers buying my products online. Currently, I earn about SGD $5,000 – $6,000 every month and it's increasing. I have customers all over the world."
– Morrick, work from home
"1 month after joining Alan's course, my website is found at top 3 of Google search. My profit increased more than SGD $3,000 and when the days are good it can go up to $5,000 more."
– Ronald, business owner
"I'm proud to say that my website is on page 1 number 1. We have outranked everyone of them and we are getting a lot of enquiries. Our last month sales was about $30,000 and that's a really huge amount for a startup company. We got the much-needed boost and encouragement to take it further. I hugely recommend this course. Thank you!"
– Fazel, marketing manager
"Within this past 3 months, I realise my traffic increased to around 48k from nothing. Now I am making money from Adsense and sales conversion. I highly recommend Alan's course."
– Chin Chuan, work from home
We are flooded with success stories. Click to view
more testimonials
.
Start your successful online business 
For a limited period only, you can attend our 2-hour FREE seminar on how to start a PROFITABLE online business.
Highlights of this seminar:
How to start a PROFITABLE online business and work from the comfort of your home (or anywhere in the world).
Identify market demand – Use the Google system to see what your potential customers are searching online before starting your business (A MUST KNOW for complete beginners to online business).
How to make your website work for you by driving FREE, UNLIMITED & TARGETED traffic to it (A MUST DO for all businesses).
Start your online business without owning any inventory by working with Amazon and Google!
A simple 3-step formula for online success
Proven strategies and results to generate additional income during your free time.
And many more…..
Speaker: Alan Koh

Alan, a business finance graduate, started his career as a banker back in 2005. During his 4-year tenure, he won 8 prestigious awards with the bank. Two months after winning his 8th award, he shocked his colleagues and bosses by handing in his resignation letter. He decided to leave so he could pursue his dream of becoming an entrepreneur.
Since leaving the banking industry, he started multiple businesses and has found something he is truly passionate about – Internet Marketing and Online Businesses. He proceeded to study about search engine algorithms and took Google and Yahoo/Bing examinations.
Alan is also a Google and Yahoo/Bing qualified individual consultant who holds the following certifications:
About Impossible Marketing
Impossible Marketing is honored to be recognized by Google as one of their partners in Singapore.
(Click on the Google badge below to verify!!)
Impossible Marketing is featured in:
Registration
Date & Time
21st Sept 2017 (Thur), 7.30pm – 9.30pm (full house!!)
4th Oct 2017 (Wed), 7.30pm – 9.30pm (full house!!)
9th Nov 2017 (Thur), 7.30pm – 9.30pm (full house!!)
16th Nov 2017 (Thur), 7.30pm – 9.30pm (full house!!)

Location:
Impossible Marketing Training Centre
10 Anson Road, #36-05A,
International Plaza,
Singapore 079903
(Above Tanjong Pagar MRT. Take Exit C for the sheltered walkway.)
As seats are limited, please register your interest now!

We value your privacy. We never share your information with 3rd parties.
By clicking 'Submit', you agree to our terms & conditions and privacy policy and authorize our consultants to contact you.
Note: You are liable under the Personal Data Protection Act if you key in false personal data or other people's personal data.
Author: Google+ Profile