Impossible Marketing Pte Ltd, a Google Partner Company (<– click to verify), is a homegrown Internet Marketing Company that specializes in taking websites to the top of Google search results for greater traffic and lead generation. With more than 3.5 billion Google searches every day, it is important for every business website to be visible in Google search results.
Starting out as freelancers, we have been rolling out our own Internet marketing campaigns since 2009. Throughout the years, we have experimented with combinations of many different strategies such as targeted keywords, text positioning, color selection, advertising images and content to learn what achieves the highest conversion rate for business websites. Armed with statistics and proven methods collected over the years, we have helped many companies launch their marketing campaigns successfully with overwhelming results.
Due to our success, we are often invited by companies to provide SEO course to their employees. In 2013, we extended our SEO training to the public. Since then, we have trained over 1000 employees (as of March 2015) from various industries including real estate, finance, business, retail, hospitality and much more.
Our Team
Principal Trainer / Consultant – Alan Koh
Alan started his career in Standard Chartered Bank as a relationship manager in 2005. In the 4 years of his tenure, he won 8 prestigious awards with the bank. 2 months after winning his 8th award, he shocked his colleagues and bosses by handing in his resignation. He left to pursue his dream of becoming an entrepreneur. Since leaving the banking industry, he started multiple businesses and found something he is truly passionate about – Internet Marketing.
He pursued and studied search engine algorithms and completed the Google and Yahoo/Bing examinations.
Alan is now a Google, Yahoo/Bing qualified advertising consultant who holds the following certifications:
Alan is the principal trainer of Impossible Marketing. Since 2013, he has personally trained hundreds of students in Internet Marketing. His recent comment on "MOM visit our web sites campaign" was captured and featured in The Straits Times on 12th June 2014. Alan holds a Business Finance degree from Royal Melbourne Institute Technology (RMIT).
Trainer / Business Development Manager – Serene
Serene is the business development manager and trainer of Impossible Marketing. Just like Alan, she has a strong passion for Internet marketing especially Google search algorithms.
She proceeded to take her examination with Google and Yahoo/Bing to become a qualified advertising consultant in 2015.
Serene holds the following Google and Yahoo/Bing certificates:
She also holds a Banking & Finance Degree from the University of London.
Developer / Marketing Consultant – ZhenHua
ZhenHua is a passionate web and mobile developer with more than a decade of experience delivering solutions across different industries including the government sector, advertising, and small business operations.
He also co-founded 2 startups, one specializing in social media marketing applications and another that provides interactive media and bespoke software development services, both of which he was very much involved in the strategic and technical delivery.
Marketing Consultant – Cindy
Cindy graduated with a double-major degree in International Business & Management. She loves online shopping and has slowly developed a strong interest in online businesses. This led her to pursue a career related to the Internet.
As a marketing consultant with Impossible Marketing, Cindy constantly challenges herself by implementing a variety of marketing campaigns and strategies for our clients.
Event Manager – Ron
Ron graduated with a degree in Exercise & Sports Science from Edith Cowan University. As a fresh graduate, he is very keen to explore and learn new skills especially in the area of event management.
Ron will be in charge of planning and managing of Impossible Marketing events in Singapore and overseas.
His main responsibility includes interacting with clients, building a strong relationship with partners, events planning, and management.
Project Manager – Simon
Simon graduated with a Bachelor's Degree in Marketing and Management from Newcastle University. He has a great interest in digital marketing, especially in the field of Search Engine Optimization.
Simon works as a project manager in Impossible Marketing where he manages the marketing and social media content of the clients. His leisure activities during his free time include watching football and MMA.
Project Manager – Eugene
Eugene graduated with a Bachelor's Degree in Psychology from Murdoch university. He is passionate about digital marketing and is fascinate on the topic "how human behave differently online".
Eugene works as a project manager in Impossible Marketing and his main responsibility includes social media management, planning and managing marketing projects effectively as well as working closely with our digital marketing team.
Project Manager – Joanne
Joanne is the youngest and the most energetic person in the team. She loves the process of building a website from scratch, to see it climb in ranking from nowhere to be found on the 1st page of Google search results.
Joanne is the project manager of Impossible Marketing where she takes charge of our client's SEO & SEM marketing accounts.
Creative Executive – Summer
Summer helps to build and manage client's social media profiles and presence by producing creative content. Having studied creative writing at Nanyang Technological University, she has a knack for writing and a passion for visual documentation.
She loves to explore new ways to engage audiences from different social platforms. On her off days, she volunteers for animal societies or stays at home with her adopted rabbit.
Creative Executive – Diyanah
Diyanah graduated with a Diploma in Mass Communication. She loves hunting for interesting information or places and gives her best opinion about it. With that, she would generate content and share it.
She believes that being a creative thinker with excellent content generation skills is essential in producing a quality content.
Content Writer – Ruth
Ruth holds a degree in Business Administration. Her vast working experience as a former reporter with Business Times have nurtured her into the perfect person who is able to generate quality content for websites.
With her love for reading and writing, she is in charge of generating marketing content for our company as well as for our clients.
Content Writer – Natasha
Natasha is currently studying political science in NUS. She enjoys reading all kinds of stuff during her free time, from romantic novels to biographies.
With her mad passion for reading and writing, Natasha helps to generate quality and engaging content for our clients.
Our Photo Gallery
Google Events
Other Events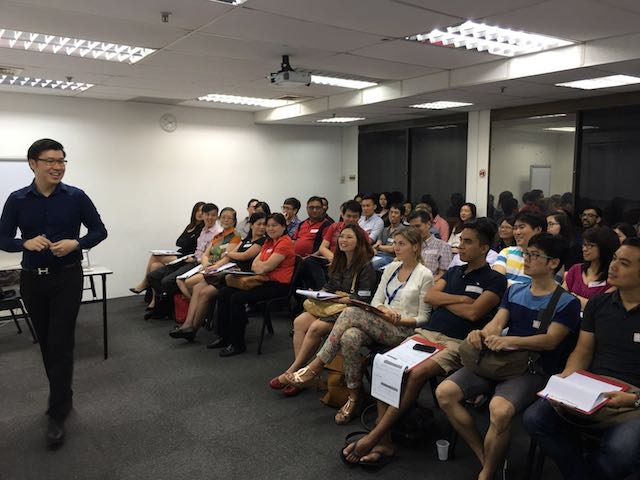 Some of our Graduate Students
Click to view their testimonials.