"I sign up his (Alan) course about 3 months ago and now my web page is on the 1st page of Google. I learn a lot from Alan and his team, they been very helpful even after the course. Now that I seen results on my web page, I highly recommend his class." – Alanis, property agent
Website: www.myexclusivecondo.com is ranked #1 for keywords "New Launch Condo", "New Launch Condo Singapore" and many others.
"My website was initially nowhere to be found but with Alan's teaching, now my website is at page 1 rank 1 for a few keywords. Leads are coming in! Alan's course works!!"
– Benny, business owner
Website: www.fireflyphotographysg.com is 
ranked #1 and #2 (dual listings)
for keywords "Photo Studio Singapore", "Photography Studio Singapore", "Photography Services Singapore" and many other keywords.
"Attended Alan's SEO course 1 month ago……. my web page has manage to climb to page 1."
– Kenny, business owner
Website: www.alvinadeline.com is
 ranked #1
 for keywords "Wedding Videography Singapore", "Wedding Videographer Singapore" and many other keywords.
"We went through a rigorous 2 months of applying the knowledge of what Alan has taught us. Surprisingly, after 2 months of really intensive hard work, we manage to get our ranking on Google 1st page."
– Randy, business owner
Website:
www.axcel.sg is
 ranked #1
for "Copier Singapore", "Copier Machine Singapore" and many other related keywords.
We are flooded with successful students. You can click to view more
student testimonials
.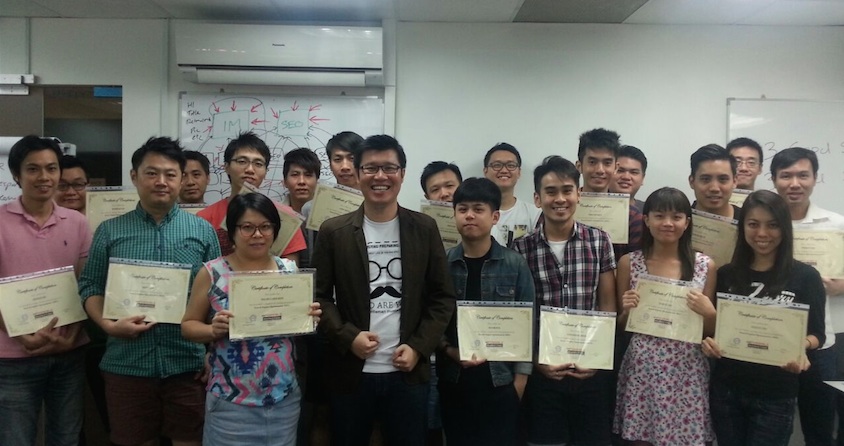 Singapore's leading Internet marketing company offers the most comprehensive SEO training (total 10 parts + bonus) with certification. We only teach White-Hat SEO strategies that are recommended by Google Webmaster. This is the main reason why our website has been dominating the Google #1 position since July 2013.
WARNING: Results Don't Lie
Imagine you are a florist, what keywords would you want to rank at the top of Google search?
It could be the following: "Florist Singapore", "Flower Delivery Singapore", etc.
What if you are a personal trainer?
It could be: "Bodybuilding", "Personal Trainer", etc.
Okay, let us imagine this now: What if you own an Internet Marketing company that offers SEO? Sounds familiar?
While many companies self-proclaimed to be the number 1 SEO Company in Singapore, we let our results speak for themselves.
We are proud to have dominated the Search Engine Results Page (SERP) on the following keywords:
| | | |
| --- | --- | --- |
| Keywords | Average Monthly Searches | Google SEO Ranking |
| Internet Marketing Singapore | 390 | Number 1 |
| Internet Marketing | 590 | Number 1* |
| Online Marketing Singapore | 390 | Number 1 |
| Online Marketing | 480 | Number 1* |
| SEO Singapore | 2400 | Number 1 |
| Singapore SEO | 260 | Number 1 |
| SEO | 3600 | Number 1* |
| Search Engine Optimization | 880 | Number 1* |
| Search Engine Optimization Singapore | 110 | Number 1 |
Try it out yourself and Google any of the above keywords (eg." Internet Marketing Singapore") and you will find us #1 in Google organic search results (not paid advertisements).
*When you Google keywords without "Singapore", Google tend to return results from international websites (Eg. Wikipedia), related news articles and pictures. However, we are still ranked number 1 for the local website in the search results. 
"Keywords" and "Average Monthly Searches" are from Google Adwords Planner tool in June 2014. Results may be different every month.
Did we mention that we are ranked at the top of Yahoo and Bing SERP as well?
SEO Training
Productivity and Innovation Credit (PIC) Claimable!
We believe the best way to learn is to build it. Therefore, our SEO training course consists of 90% hands-on, 10% theory. This is also the main reasons why our students are achieving top Google ranking.
This 2 full days (Mon & Tue 9.30am – 5.30pm or Sat & Sun 9.30am – 5.30pm) SEO Certification Course includes:
Course handouts
Lunch and Refreshments for both days
Certification of Completion
2 group reviews (1 month and 2 months later) after full course to ensure your success
Lifetime support via AskImpossible.com
Lifetime Google search update and networking sessions via ImpossibleNetwork.com
SEO Course Modules 
1) Introduction to Search Engine Optimization (SEO)
What is Search Engine Optimization
How Search Engines Work
SEO vs Pay Per Click (PPC)
Latest Google Update – Panda, Penguin, and Hummingbird
2) Keywords Research
Understanding Google Keyword Planner Tool
Keyword selection process
Short-tail vs Long-tail keywords
Action vs General keywords
Tracking of competitors' keywords
3) Domain Name & Web Hosting
What are domain name and web hosting
How domain name and the web hosting affects SEO
Registration of domain name & web hosting
Linking up of domain name & web hosting via cPanel
Website live!
4) WordPress & Plugins
Understanding WordPress (a free web building software)
How WordPress plugins affect SEO
Recommended WordPress plugins for better SEO ranking
How to increase web security
How to prevent spam attacks on your website
5) On-Page SEO
What is On-Page SEO and how it affects SEO ranking
Type of On-Page SEO signals that Google capture
Understanding content optimization
Understanding image optimization
Understanding video optimization
Understanding landing page optimization
Understanding user sitemap optimization
How website speed affects SEO
How website layout affects SEO
Building Google preferred web structure
Google heading priorities
SEO Link strategies – Internal, External, and Permalinks
Google SEO Concept – Signals Priority, Relevancy, and PageRank
Understanding Google meta tag and meta description
How meta tag and meta description affects SEO
Common meta tag and meta description issues
How blog affects SEO
Common On-Page SEO issues
Tracking of competitors On-Page SEO strategies
Case studies – Good vs Poor On-Page SEO websites
Understand the MUST-DO in a website to rank well in Google Search Result Page (SERP)
6) Mobile SEO
What is mobile SEO
How mobile SEO affects Google search ranking
Common mobile SEO issues – how to fix them
7) Google Webmaster
What is Google Webmaster Tool
How Google's spiders crawl a website
Google indexing process
Common indexing issues – how to prevent it
Building and summiting XML Sitemap for Google webmaster
How XML Sitemap affects your SEO ranking
Setting up your Geographic location for better SEO ranking
8) Off-Page SEO
What is Off-Page SEO and how it affects SEO ranking
Building of back links – Link Authority, Relevancy, and Diversity
Getting FREE on-going quality back links for your website (White-Hat method)
Case studies – Good vs Poor Off-Page SEO websites
Tracking of competitors Off-Page SEO strategies
9) Social Media
How social media affects SEO ranking
Building social media the SEO way
How social media "likes" and "shares" affect SEO
Common social media issues – how to prevent it
Case studies – Good vs Poor Social Media
10) The Don't in SEO
WhiteHat SEO (ethical way) vs BlackHat SEO (unethical way)
Buying links vs Building links
Quality contents vs keywords stuffing
Contents for users vs contents for search engines
Cloaking, misleading redirect, hidden content on website, duplicate contents
Outsourcing (New)
Save time by outsourcing part of your SEO work (e.g. content writing) at a very low cost
Exam & Certification
Certification Exam
Questions and Answers
Bonus 
Revealing our SEO secrets on how we outranked ALL our SEO competitors and consistently dominates the #1 position in Google Search Engine Results Page (SERP).
Course Trainer – Alan Koh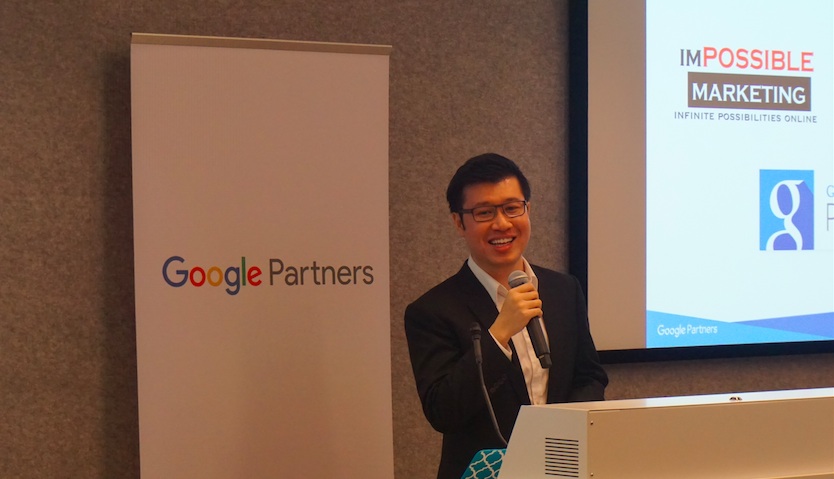 Alan Koh is the only Internet Marketing trainer in Singapore who holds certifications from Google and Yahoo/Bing. He has personally optimised impossible.sg and achieved top ranking for many Internet Marketing related keywords that many of his competitors desire.
With his proven White-Hat SEO strategies, many of his students have achieved Google SERP page 1 ranking. Some of them even achieved page 1 number 1 ranking!
Alan is also a Google and Yahoo/Bing qualified individual consultant who holds the following certifications:
About Impossible Marketing
Impossible Marketing is honored to be recognised by Google as one of their partners in Singapore.
(Click on the Google badge below to verify!!)
Impossible Marketing is featured in:
Register for our free preview session to find out more!
Date & Time:
21st Sept 2017 (Thur), 7.30pm – 9.30pm (full house!!)
4th Oct 2017 (Wed), 7.30pm – 9.30pm (full house!!)
9th Nov 2017 (Thur), 7.30pm – 9.30pm (full house!!)
16th Nov 2017 (Thur), 7.30pm – 9.30pm (full house!!)

Location:
Impossible Marketing Training Centre
10 Anson Road, #36-05A,
International Plaza,
Singapore 079903
(Above Tanjong Pagar MRT. Take Exit C for the sheltered walkway.)
As seats are limited, please register your interest now!

We value your privacy. We never share your information with 3rd parties.
By clicking 'Submit', you agree to our terms & conditions and privacy policy and authorize our consultants to contact you.
Note: You are liable under the Personal Data Protection Act if you key in false personal data or other people's personal data.
Author: Google+ Profile