Benefits
Shoptiq offers both aspiring and existing entrepreneurs with a comprehensive e-commerce solution with the following benefits:
E-Commerce Made Simpler
With readily available website tools and integrated logistics providers, your first step to creating an e-store is made convenient and fuss-free with Shoptiq. In other words, no technical knowledge is required for you to run your business on this platform!
No Hidden Cost:
Enjoy zero transaction fees when using the platform (this excludes third-party payment gateway fee).
Increase in Sales Opportunities
Connect your e-store to leading marketplaces like Lazada.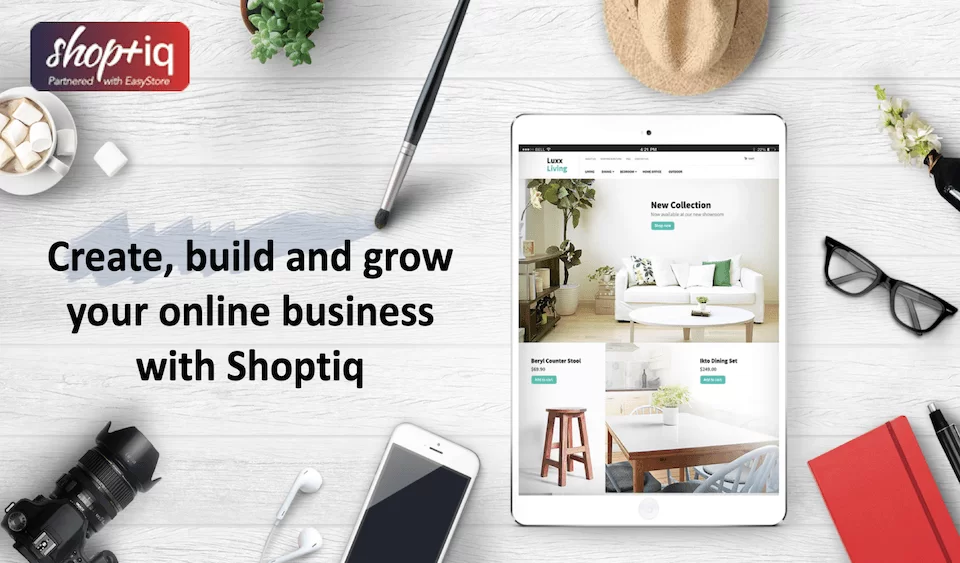 Course Objective
By the end of the course, you will be able to:
Create your own E-Commerce store with your own custom domain
Learn the ins-and-outs of navigating the Shoptiq platform
Customize your e-store by adding/editing themes, products, content and promotions
Learn how to manage and integrate payment systems and shipping tools
Key Features
FREE (Fully sponsored by Singtel, no SkillsFuture Credit needed)
Shoptiq is an E-commerce platform by Singtel in partnership with EasyStore. Get your e-store LIVE during this training!
Up-to-date course modules
Hands-on training
Live demo to setting up an online store
Structured curriculum developed by Singtel and Impossible Marketing with extensive experience in training courses
After course support by Singtel
Course Modules
Module 1 – Introduction to Shoptiq
What is Shoptiq
The benefits of Shoptiq
Module 2 – Add/Edit Theme
Access and select a theme from the theme store
Module 3 – Add Product
How to add products
Adding product details and variants
Module 4 – Add Product Templates
How to standardize details across all products
Module 5 – Manage Product Inventory
Track product inventory
Manage product inventory
Module 6 – Add/Edit Collections
How to add your products into different collections
How to add a drop-down menu on your website to show different catalogues
Module 7 – Add/Manage Navigations
How to add and manage your top bar
Module 8 – Add/Edit Page
Add pages to your website (Eg. About us, Contact us, etc)
How to edit the content of the pages (Eg. Upload photos, hyperlink, etc)
Module 9 – Add/Edit Promotions
Add promotions to your products (Eg. 50% off, $25 off, buy 1 get 1 free, etc)
Add discount code to your promotion
Module 10 – Manage Orders
How to manually add orders coming in from different channels
Module 11 – Add Currency
Add different currencies
How to manage the exchange rate
Module 12 – Apply Taxes
Set up tax rates for the countries you are selling to
Manage tax settings
Module 13 – Manage Store Locations
Add your pickup locations
Manage schedule for pickup orders
Module 14 – Enable/Manage Payment
Enable/disable payment method
Add different payment methods
Add payment instructions
Module 15 – Enable/Manage Shipping
Choose your shipping zones
Manage shipping rates and handling fees
Module 16 – Add/Edit System Email Template
Setup automated email for your customers
Edit email templates
Module 17 – Manage Sub Domain/Custom Domain Name
How to add an existing domain to your e-store
Who Should Attend
Existing business owners who wish to learn and be part of a growing alternative e-commerce platform
Aspiring entrepreneurs who wish to start their own business and have no idea where to start
Web developers who wish to learn more about building an E-commerce website
Working professionals who are looking for a career change to the digital marketing/web development industry
Prerequisites
Basic computer knowledge
Please bring your own laptop for the course
A laptop can be provided during training upon request (please inform us 2 days before the start of the course)
More Details
Course Fee
Free (Fully sponsored by Singtel)
Prerequisite
Basic computer knowledge
Kindly bring your own laptop for the course
Class Size
Minimum 4 pax to start
The class size s capped at 20 seats
Available Course Dates
Postponed until further notice due to Covid-19.
Course Venue
10 Anson Road, #29-06
International Plaza, Singapore 079903
(Above Tanjong Pagar MRT)