Google Search Console's Validate Fix Feature Is Back Again!
Updated on: 18 August 2022
At the beginning of August, Google disabled the validate fix feature on the coverage report section of Google Search Console, citing that they were going to make some minor updates over the next couple of weeks.
A few days ago, Google, once again, enabled the validate fix feature while also launching an updated "more simplified" coverage report classification that will elevate your digital marketing strategy's effectiveness.
What is validate fix?
The validate fix feature is a way for users to confirm with Google once specific issues on your site have been resolved. Once validated and all known issues are fixed, the issue count returns to zero in the issues table.
Why validate?
Informing Google that all issues in a specific issue category or status have been settled has the following advantages:
You will get an email when Google has confirmed all the necessary fixes on the targeted pages are correct or, conversely, if there are any other issues that need to be rectified.
You are able to track Google's progress in the validation of the fixes, as well as view a log of the targeted pages that are queued for validation and the validate fix status of each page.
Validating fixes might not necessarily make sense for certain situations. For example, page links that were blocked by robots.txt were probably blocked for a purpose. It is always crucial to use some discernment when deciding to validate certain issues. It is possible to fix certain issues without the need to validate them. Regardless of if you deliberately click on the validate fix feature or not, Google updates your instance count as long as it crawls the targeted page.
Updated validate fix feature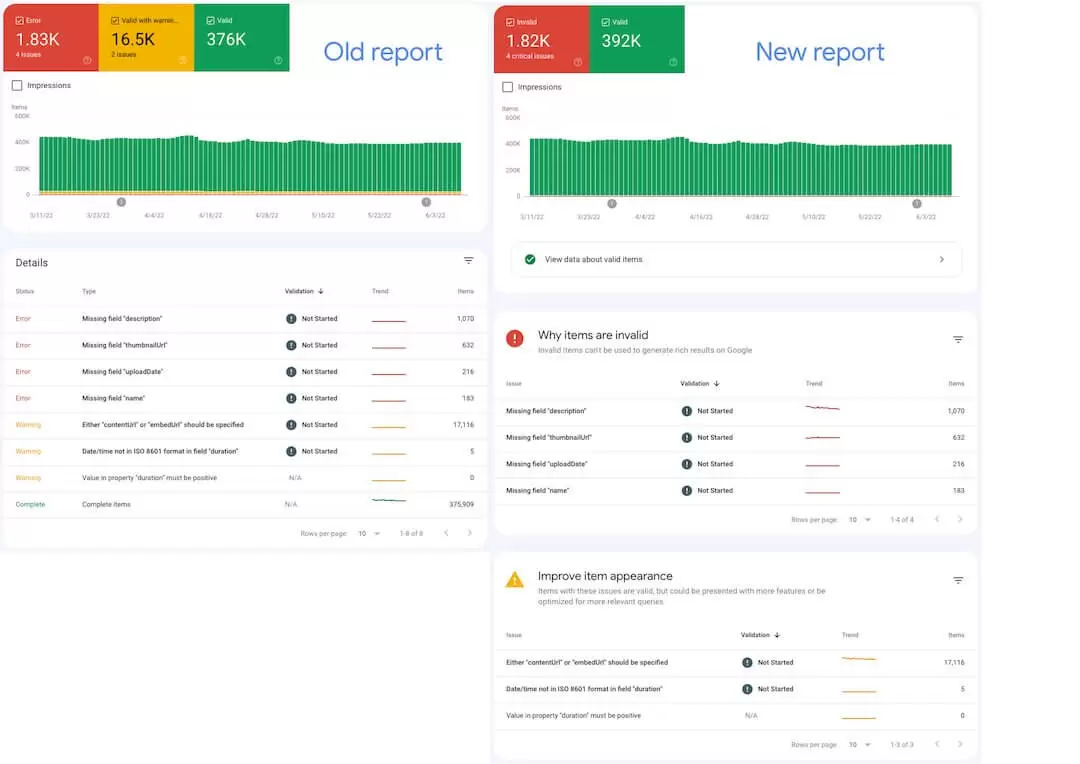 Image Source: Twitter
Google simplified the way they classify items, issues, and pages in Search Console reports. Through this update, users can better focus on key issues that affect the page's visibility in Google search results. Google expects the changes to be implemented gradually over the next couple of months. In the past, many users have feedback to Google that the "warning" status applied to the URLs or items can be confusing as most do not know if the status means the item or page cannot appear on Google search results.
Hence, the validate fix feature update consist of categorising top-level items into two groups: items or pages with critical issues will be labelled as invalid, whereas items or pages without critical issues will be labelled as valid. The new groupings will enable users to quickly and efficiently spot issues that will affect their page's search results, thus prioritising more severe problems.
This update of validation categories will also be implemented in the URL Inspection tool in Google Search Console. However, they will only be updated in the rollout of URL Inspection API over the next couple of months. This means that users' properties shown in the updated item classification might be different when comparing results with the API and product interface. Once the rollout of URL Inspection API is complete, there will be no new API values.
Conclusion
A validation fix is a necessary and essential tool that users should utilise in order to ensure strong search results. The process usually takes up to approximately two weeks, but in some cases, Google might take a longer time to process the validation. If done accordingly and correctly, you should be on your way to ranking high on Google search results.
Nevertheless, besides ensuring that all errors are properly fixed, it is also important to ensure that proper SEO-related steps and procedures are done to boost visibility and links. Only by ensuring that your webpage is constantly updated with fresh information will you be assured of strong search results.
If you want your business to rank high on Google search, then you need Impossible Marketing. We are an award-winning digital marketing agency in Singapore that has delivered results for their wide-ranging pool of clients – and are here to help you as well! Whether it's SEM or SEO services that you're looking for – feel free to contact us to get started.