Google Updates Mobile SERPs With Site Names & Favicon!
Updated on: 27 October 2022
As part of Google's effort to improve and optimise mobile users' experience, they have recently released a mobile SERP update that apparently stops showing title tags for website searches, such as homepages. While it should not have any significant impact on Google usage in general, it will undoubtedly help to provide more transparency and clarity within its listings.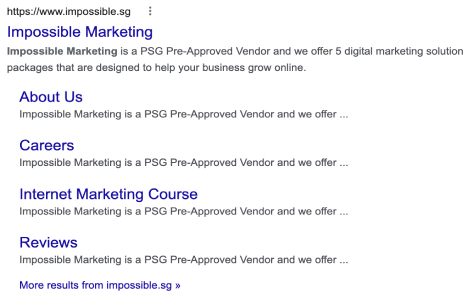 This update, called site names, will display just the name of the searched page instead of the previous display, which is the page's URL. Alongside the new update in SERP display, Google also released the shape and size of the favicon, which will be shown next to the page name and URL.
This new update is reported to work only for home pages and not subdomains. For example, https://www.impossible.sg/ and not a subdirectory-level homepage, such as https://www.impossible.sg/our-services/search-engine-optimization-seo/.
Why Google released site names?
Google stated that this update aims to provide users with a more effortless and seamless experience in identifying websites in their SERPs, assuring them the necessary confidence in the associated pages. Site name is currently available for mobile SERPs in French, German, Japanese, and English, with other languages receiving this update over the next couple of months. This update affects not only page displays but also ad displays. Site names will affect the size of the ad's favicon, label, and site name, making it more noticeable in mobile searches.
In fact, this ties in hand with a recently released Google update in which they replaced the black "Ad" label with a bold black "Sponsored" text label in mobile searches, making it more distinguishable from organic searches. With this update, Google is also switching to the use of structured data to index a website.
What should you do with this new update?
Site names should not affect Google usage or SEO results in general. Hence, there should not be any rush to do a significant overhaul on SEO optimisation or contact a digital marketing agency to engage their SEO services. Basically, from the examples above, you can now see Impossible Marketing's site name and URL easily, providing more apparent context as to what you are tapping into. With a more structured data style of indexing your website, all you need to do is to ensure you have updated your website details, ensuring that your favicon appears.
There are specific guidelines to follow, and when done accordingly, it may help increase your presence in Google Search, which might lead to higher brand visibility and awareness, which results in increased lead generation. Other than that, Google's latest update is more of a "good to know" rather than a critical note of the change. It might also extend to Google desktop too!
Conclusion
Google's latest update, site names, certainly look neater and visually more attractive on mobile devices. It definitely looks less cluttered and provides a much-welcomed clarity. With any updates to how Google Search functions as well as the look, users may behave differently. This change may work in your favour. It is always encouraged to, nevertheless, practise good SEO copywriting to optimise your business online.