Scam Alert: Beware Of Scammers Impersonating IM Staff
Updated on: 1 August 2022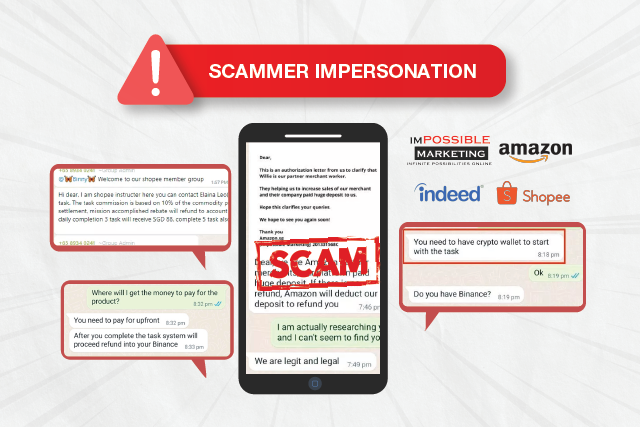 It has come to our attention that there have been multiple cases of scammers impersonating affiliates or staff of Impossible Marketing (IM), tricking people into paying a sum upfront or opening crypto wallets. These scammers also claim to be affiliated with Amazon, Shopee, and recruitment under Indeed. Please be warned that Impossible Marketing and its staff are in no way affiliated with any of these scams.
Read on to find out how you can identify and protect yourself against these impersonation scams.
Claims to be a partner with Shopee
One of the victims came across the scammer's contact information through Facebook when she was looking for an admin job, but was unaware that the scammer was impersonating a "recruiter" from IM.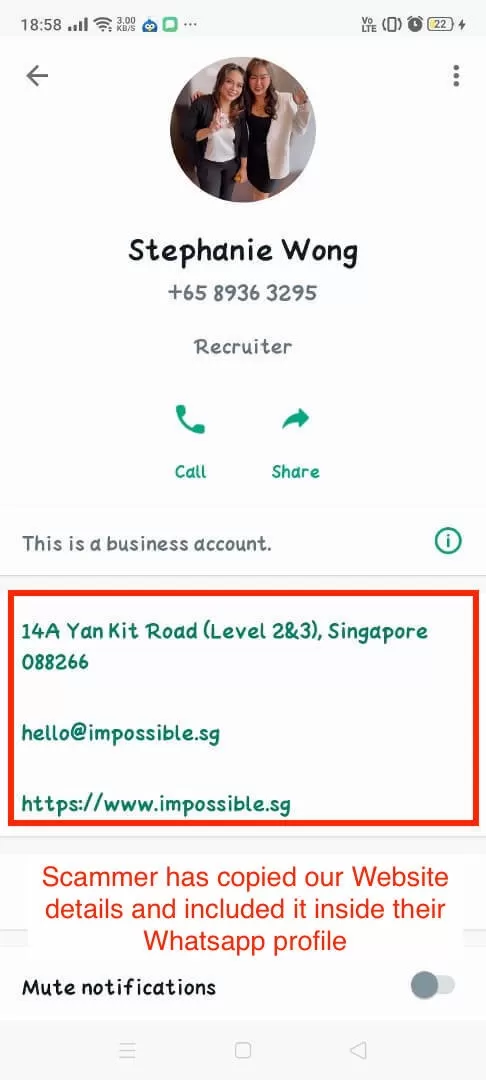 The victim was later told to contact a "Ms Elaina" for more details on the task that had to be done after being added to a Whatsapp group. The recruiter then proceeded to inform the victim that they are from IM and that we are a marketing partner of Shopee; therefore, the tasks involved working with Shopee.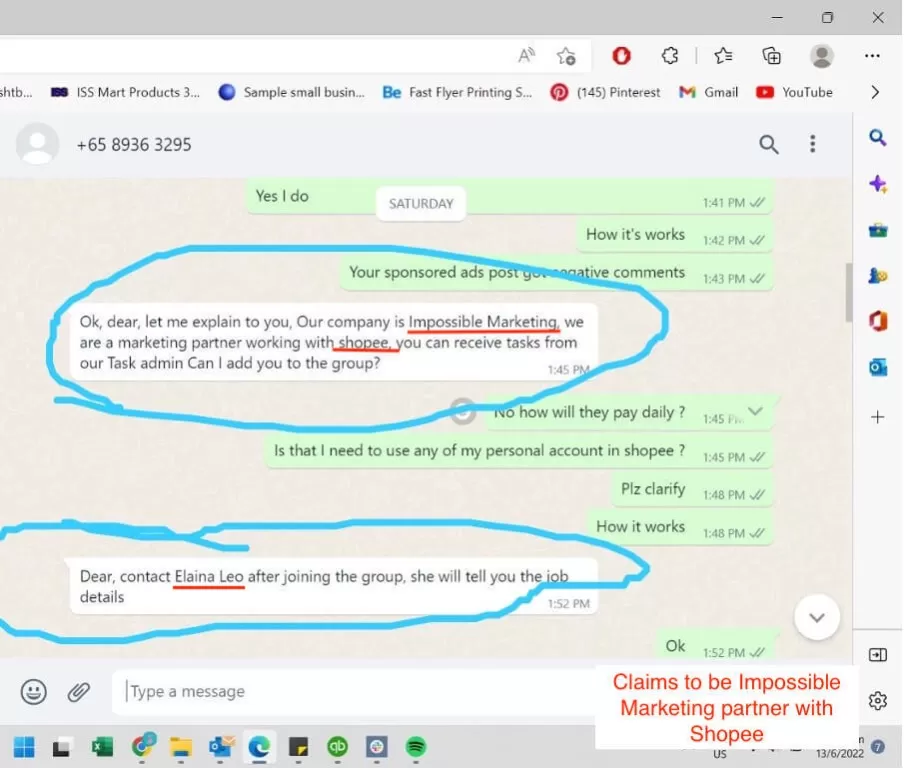 The victim was later asked to complete tasks to receive an incentive.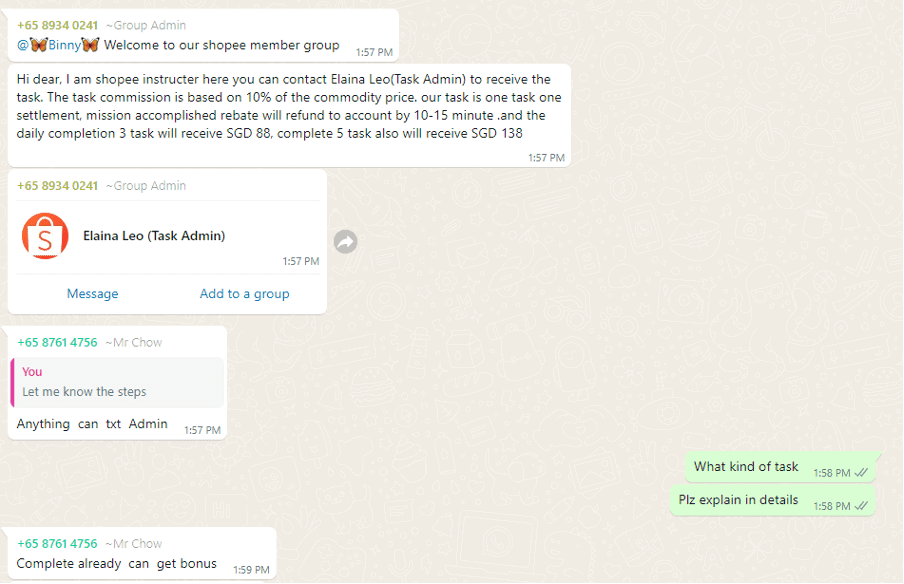 They then instructed her not to purchase from Shopee, but send the funds directly to the merchant, and they will refund her accordingly afterwards.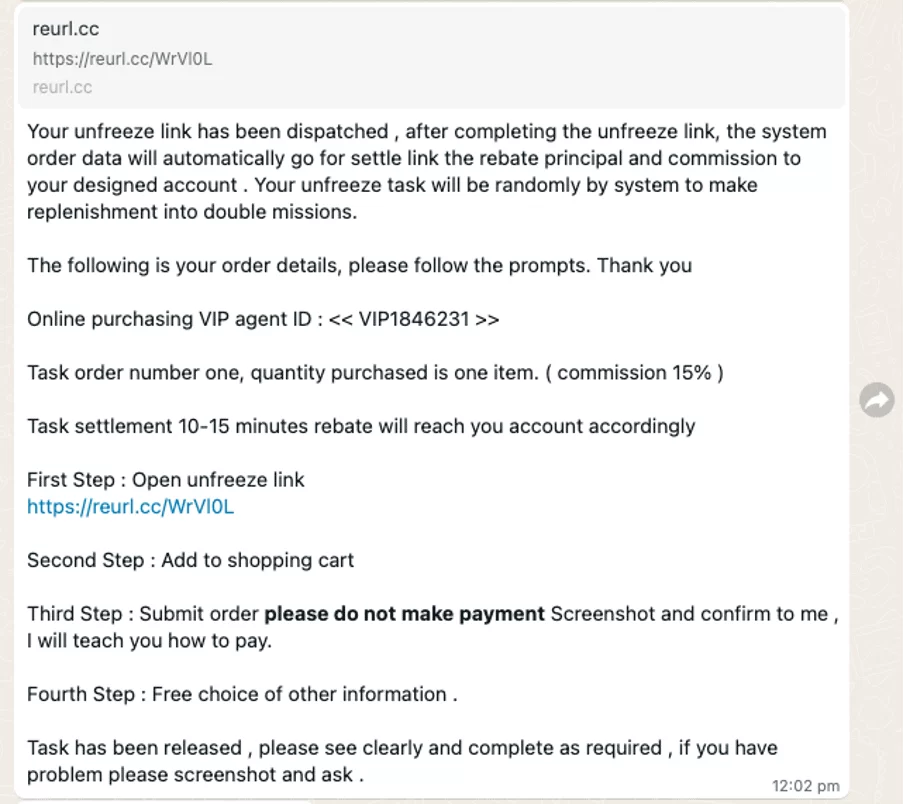 The victim ended up transferring two payments of $45 each to a "Tian Jun Wong".
Note: IM is not affiliated with a "Tian Jun Wong", and please bear in mind to avoid transferring any money to the details below as per the screenshot. If you do come across this individual, please avoid communicating any further with him/her and lodge a police report.

Subsequently, when the victim did not get any response about the refund, she threatened to go to the police. She was then blocked and removed from the Whatsapp group.
Claims to be a distribution partner of Amazon, affiliated with IM
In another case, scammers approached the victim through Whatsapp to offer work opportunities and commission.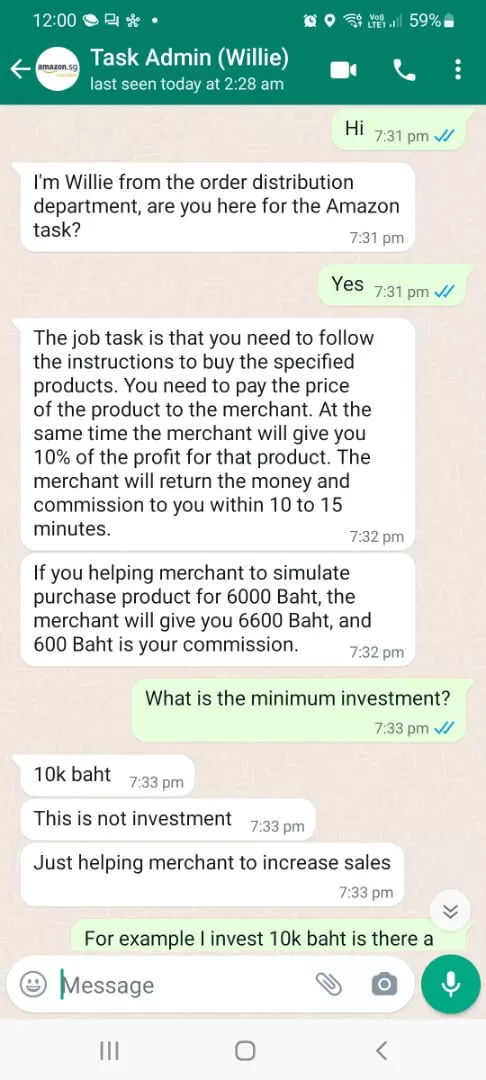 They would use a fake letter with Amazon's logo, using Impossible Marketing as an affiliate to hire part-timers.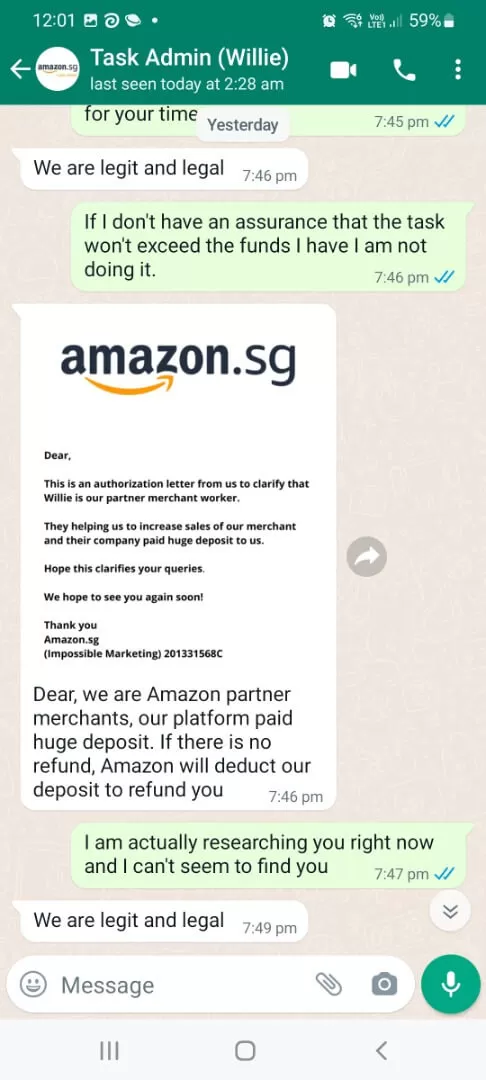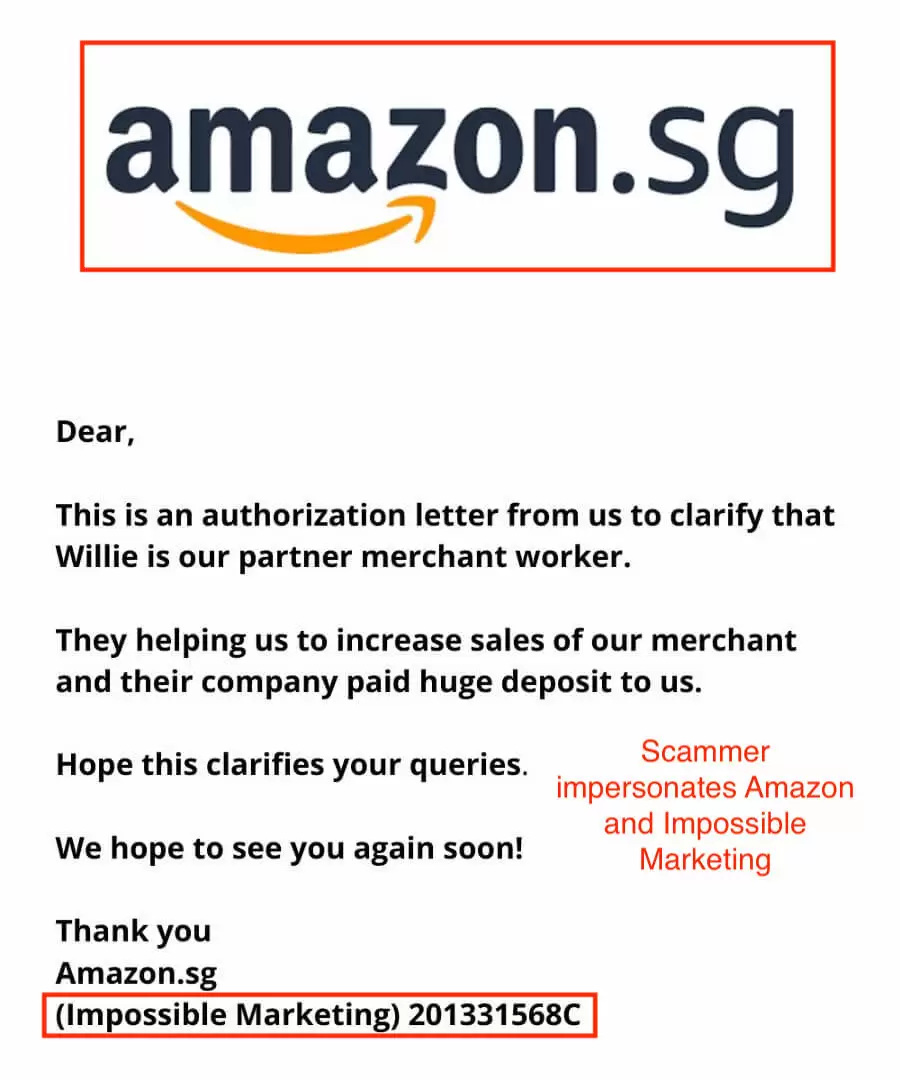 Upon accepting the job, the victim is required to pay upfront and to open a crypto wallet in order to do the task.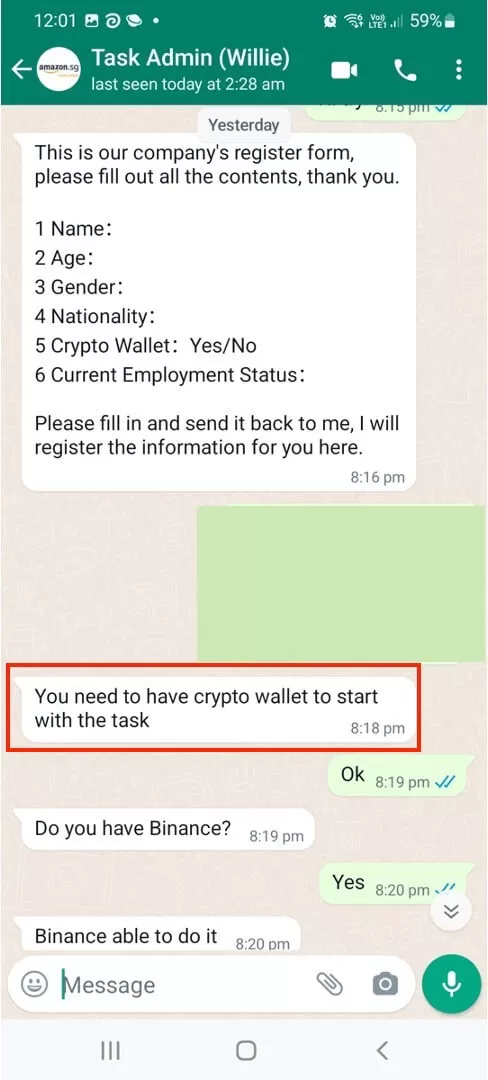 After making the transfer, the victim's number will be blocked immediately.
Claims to be recruiting under Indeed
 Another case of an impersonation scam came from a "hiring manager" who claimed to be recruiting for Impossible Marketing under the job search platform Indeed. "Elena, the HR Director", contacted the victim through Whatsapp to offer a position.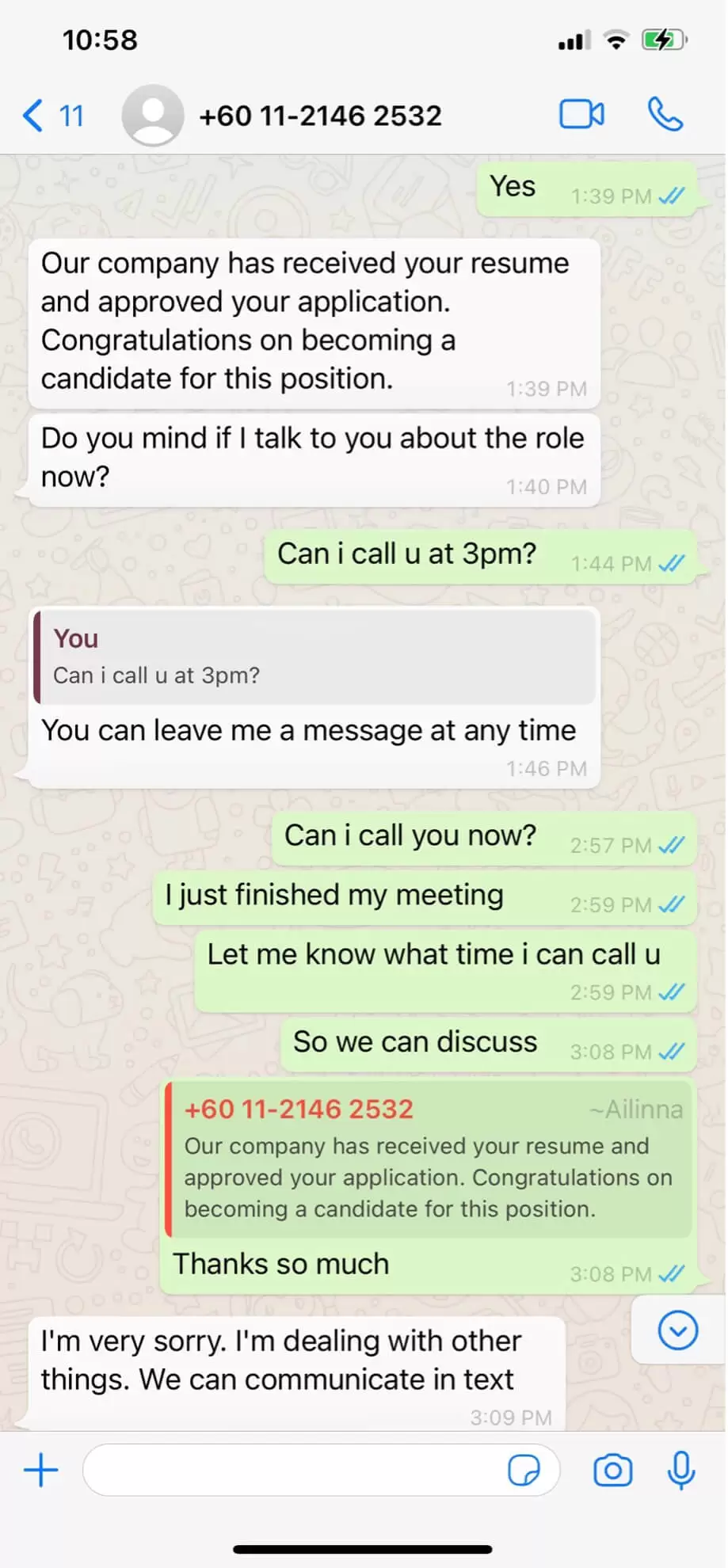 The victim got suspicious when Elena refused to call and only wanted to communicate via text. Upon enquiring further, the victim was told that the boss and shareholder of the company, a Karen M. King, would be in contact. Finding it suspicious, the victim decided not to engage and blocked the contact.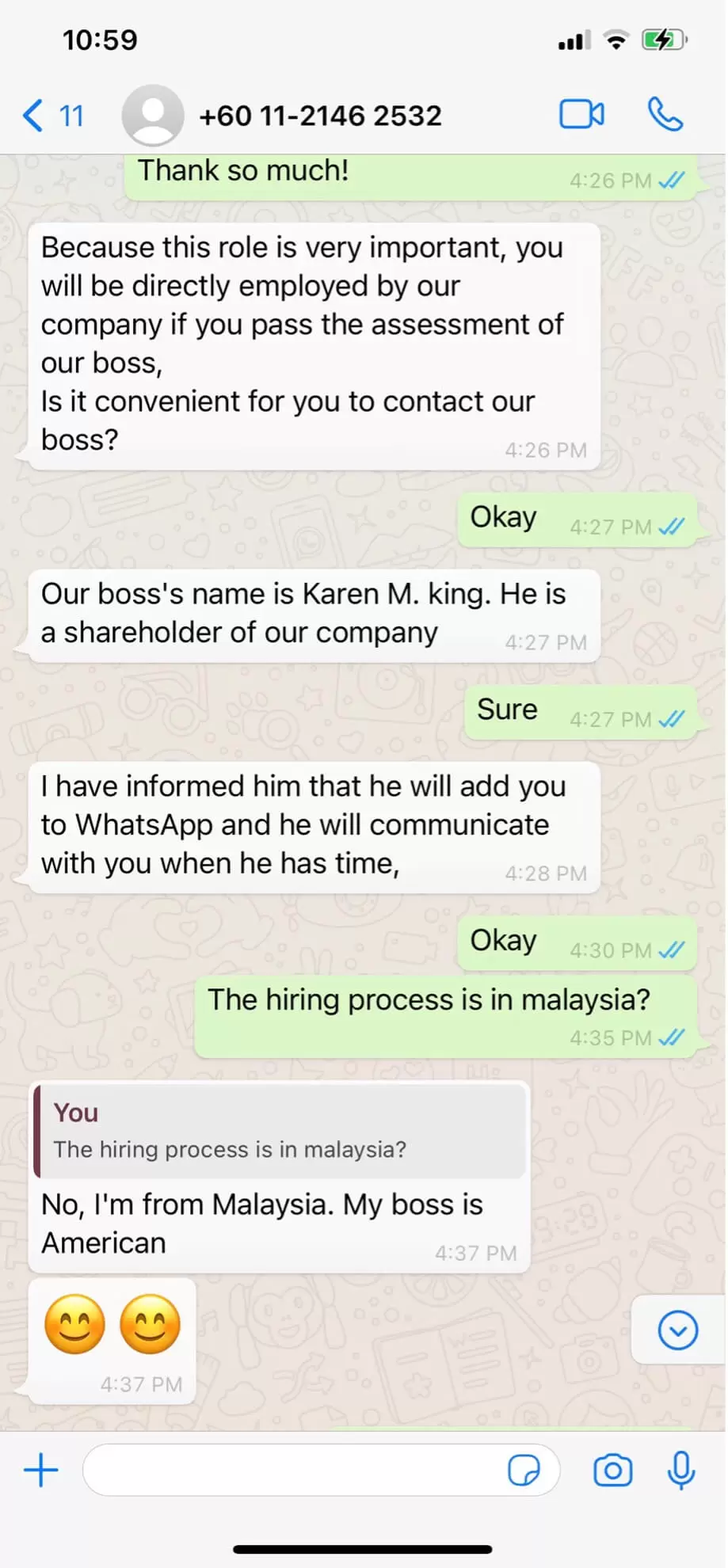 In this case, it is highly suspicious that the hiring manager will be unwilling to make a call when offering a position. Furthermore, incorrect information, such as the boss of the company was provided, which the victim could not verify. The scammer also got visibly upset when the victim didn't show further interest.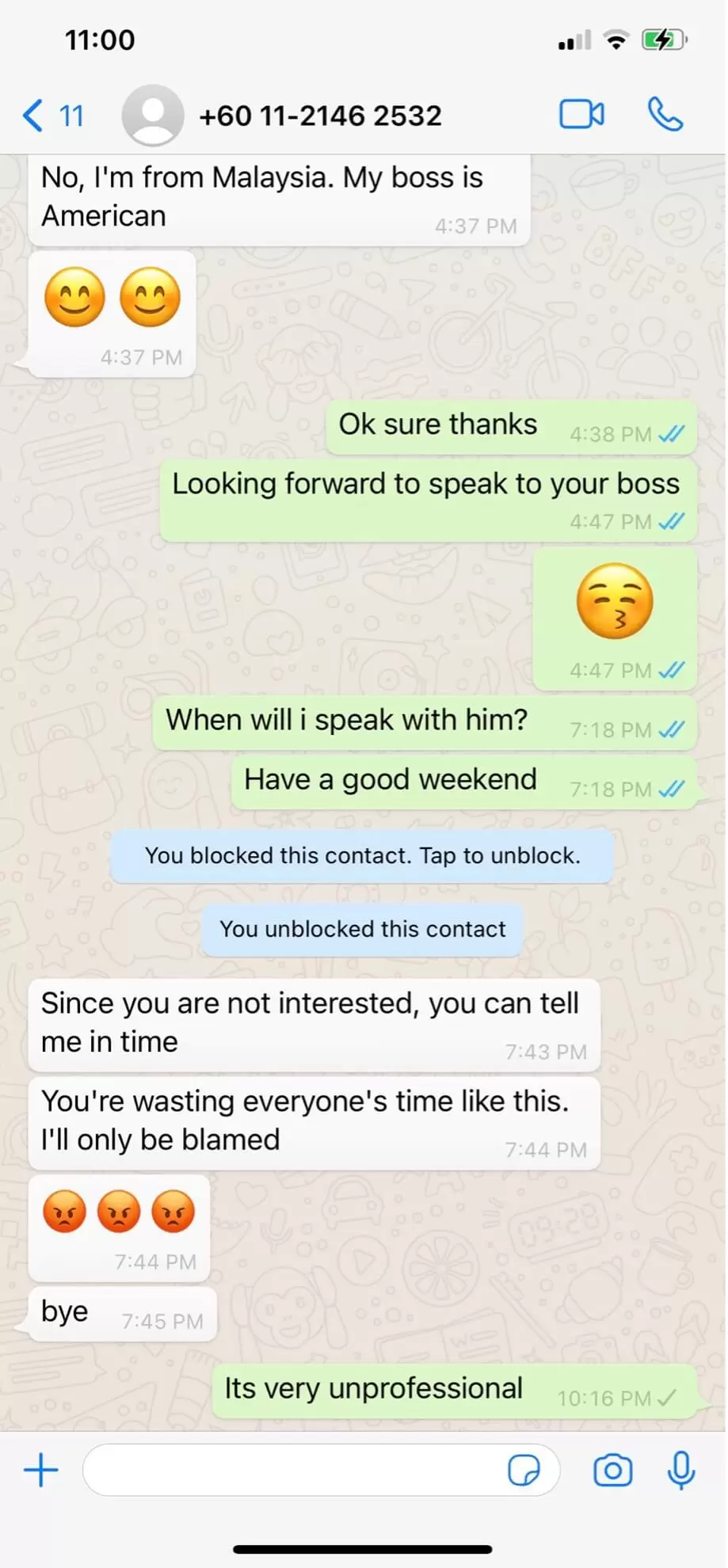 Claims to offer monetary incentives for liking Lazada/Grab pages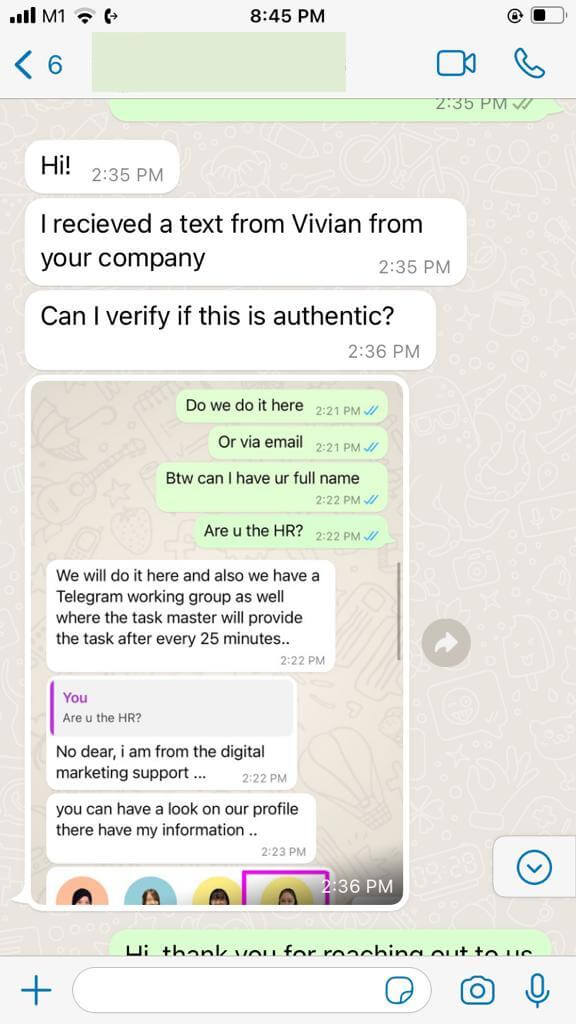 Besides job scams, the most recent case involved scammers impersonating IM staff who encouraged individuals to follow/like a certain page/post and join a Telegram group in order to be rewarded with cash should they do so. These scammers also used our stand as a digital marketing agency and impersonated one of our staff by providing a profile from our website to further convince these individuals.
Individuals were informed that the reward to be received for the follow/like and joining of the Telegram group were $3 and $12, respectively.
Conclusion
Impossible Marketing is not affiliated with any of these recent recruitment scams. All IM staff profiles can be found on our website, and users will not be asked to make requests such as making any upfront payment or opening a crypto wallet.
Your safety is our concern, and we take such incidents seriously. We are working with the relevant authorities to look into these cases and are looking to resolve them immediately.
With the rise of scams in our increasingly digital world, it is vital to stay vigilant. Always check in with us through our official channels, such as our hotline at 6208 8111 and 9278 8111 and email at hello@impossible.sg, and we will do everything we can to assist.