Step-By-Step Guide To Apply For PSG Digital Marketing Grant
Updated on: 8 October 2021
The advent of digital technology has transformed every sector of our nation's economy. This change has only been accelerated with the emergence of the COVID-19 pandemic. With mandatory restrictions in place to curb the spread of the virus, and Singaporeans minimising their time spent outdoors, the digital realm has been the go-to place for entrepreneurs to conduct their business.
However, some small and medium enterprises (SMEs) may face hurdles throughout this transition. Firstly, these enterprises may be traditional brick-and-mortar businesses with owners who are unfamiliar with the latest technological trends to adopt to reach a wider audience. Secondly, and more importantly, due to the pandemic, these businesses have been hit hard, making it challenging for them to dedicate significant funding to such an endeavour.
Fortunately, the government has recognised these SMEs' struggles and has introduced the PSG Grant to help local enterprises expand their presence in the digital realm by defraying up to 50% of the cost of funding for pre-approved solutions, such as digital marketing.
What is PSG Grant?
The PSG grant is a part of the SMEs Go Digital Programme initiative proposed by the Infocomm Media Development Authority (IMDA). This grant aims to encourage SMEs to kickstart their digital marketing efforts, which is especially crucial in the wake of the pandemic. The government hopes that with the cost partially defrayed, these companies are emboldened to forge ahead with establishing a substantial online presence, hopefully directing more traffic to their businesses, thereby increasing their sales revenue.
These digital marketing solutions are pre-scoped by Enterprise Singapore (ESG), and service providers are deemed PSG approved vendors by the statutory board. By applying for this grant and having their marketing cost heavily subsidised, entrepreneurs now face fewer risks during this period of great uncertainty.
So how do you go about applying for this grant? Well, fret now; let us provide a step-by-step guide to demonstrate how you can apply for this funding.
How can you apply for the PSG Grant?
Step 1: Log into the Business Grants Portal
You will require your CorpPass details to log onto the Business Grants Portal (BGP) to apply for the grant. Once you have accessed the webpage, click on 'Get new grant'.
Step 2: Choose your industry sector
After clicking on the 'Get new grant' icon, you will be prompted to select the industry that best describes your business. For example, if you own a flower shop, you can choose the 'Retail' category.
Step 3: Select grant
After selecting your industry, you will be redirected to a separate screen that features two options. You need to choose the second option, 'Upgrade key business areas, such as adopt technology, improve business process or raise service standards'.
Step 4: Choose the grant type
The next window will prompt you to choose the option that best describes the area you are developing for your business with the grant. When prompted, select the first option, 'Pre-scoped Productivity Solutions'.
Step 5: Check your eligibility criteria
Before the system allows you to proceed further with your application, you will have to verify that your business is eligible for the PSG grant. Tick the' yes' option if your company meets all the listed criteria before clicking 'next'.
Step 6: Complete your business information
It is mandatory for you to complete the essential information, including the details of your business's main contact person, which in this case is usually the founder of the company. You will also need to include the contact information of your organisation's CEO or Managing Director, as registered with ACRA. If the CEO/Managing Director is also the company's primary contact person, indicate so by ticking the 'Same as contact person' option.
Step 7: Complete the proposal details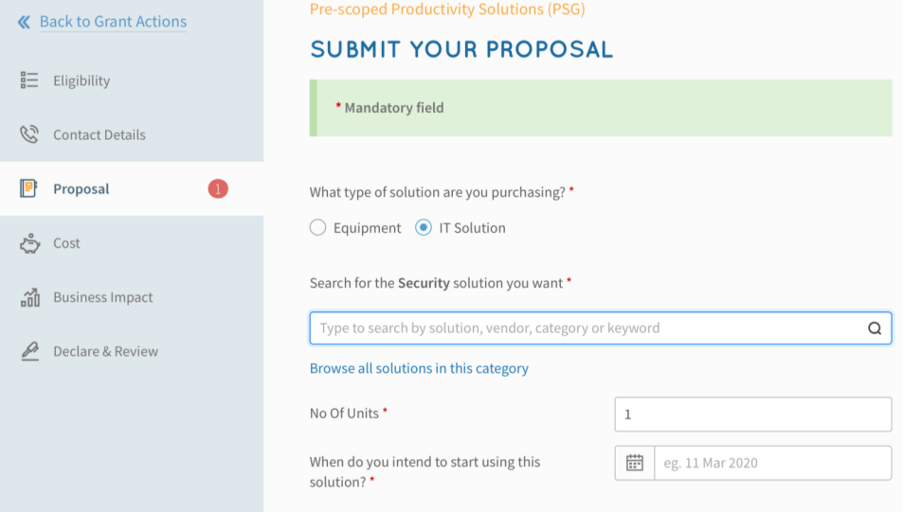 You will be prompted to select between a few options that best describes the solution you are purchasing – in this case, select IT Solution.
Step 8: Upload vendor quotation
Subsequently, you will be asked to fill in the details of the vendor you have purchased the digital marketing solution from. The vendor will provide you with a quotation so that you can upload the necessary documents during your application for the grant – do take note that the file size should not exceed 10MBs.
Step 9: Answering questions about the potential business impact on your company
Additionally, you will have to answer questions about how the vendor's digital marketing services will impact your business.
Step 10: Declaration and acknowledgement of terms and conditions
Lastly, before submitting your application, you will need to complete a declaration section to consent to and acknowledge the terms and conditions of the grant. After reviewing your applications and accepting the terms and conditions, you can tick the consent tab and proceed to click 'Review.
Step 11: The final declaration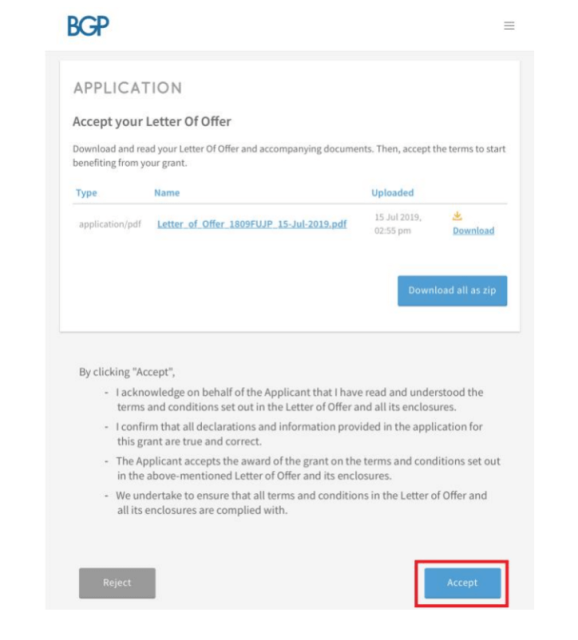 You have finally arrived at the final step of your application! It is essential for you to check and review every field thoroughly to ensure it is error-free before clicking the 'Submit' icon to confirm your application for the PSG grant.
Once your application has been confirmed and approved, you will receive a Letter of Offer (LOF), which you can find under the 'My Grants' tab when you log in to BGP. Click 'Proceed' and 'Accept' under the 'Letters and Documents' tab to officially confirm the grant. Congratulations! You have now received the funding you need to take your business to the next level.
At Impossible Marketing, we are delighted to announce that we are a PSG pre-approved vendor! This means our digital marketing services are pre-scoped by ESG and qualify for the PSG grant.
So if you are looking to take advantage of this grant to establish a substantial online presence and drive traffic to your business, do not hesitate to reach out to us. Our experienced team has handled multiple clients from various industries, so rest assured that we can help you achieve your marketing objectives no matter the industry you are in. If you are interested to know more about our digital marketing solutions, do not hesitate to reach out to us at +65 6208 8111 to get started.