5 Goals That Helped Me Craft Winning SEO Strategies
Updated on: 25 March 2021
As a beginner digital marketer or a do-it-yourself entrepreneur, SEO might seem like a behemoth to tackle. Strategies and steps range from writing blog articles to link building, and from sitemap optimisation to setting up structured data for your webpages. Where should one begin?
Believe me, I was just as stumped as you! And you might not like this answer, but the answer really depends on what you are looking to achieve. Rather than approaching SEO like a laundry list of steps to fulfil, it might be more manageable to think of it in terms of the goals and impacts you want to make.
Do you want to focus on ranking for more keywords? Or do you want to focus on boosting the rankings of the keywords that are already on the first page? Is search ranking what you really want, or do you want to channel more efforts into increasing your clickthrough rates (CTR)?
Let's walk through some of these goals you can gun for in your SEO strategy.
Boost ranking of top-performing keywords
I used to think that ranking for a lot of keywords is great. But I've come to realise that ranking higher on a few keywords is awesome, too. The thing is this: every step up on the search rankings gives you an exponential advantage.
So, if you have a few well-performing keywords, it's not time to stop your efforts. Spend some time pushing these further up, and you'll reap the rewards.
Drive traffic with long-tail keywords
To go short-tail, or long-tail, that is the question. From my research, it seems the general consensus is to go for long-tail keywords.
But long-tail keywords have fewer searches – so why target them? It's precisely due to the fewer searches that makes them less competitive and easier to rank for. They also typically correspond to searchers who are further down the buyer's funnel, indicating that people who search for these terms are more likely to be seriously considering or intending to make a purchase.
And if you think about it, only half of traffic comes from seed keywords, and these are almost-always already targeted by big brands with a strong presence. The other half comes from all the various different long-tail keywords – and that's where your opportunity lies!
Focus on driving clickthroughs
Ranking high on the search results is the first step, but what comes next is just as important: making your snippets look enticing to users, so that they click on it.
What usually shows up as the snippet is the title and meta description, or an excerpt of text containing the keyword. You can further customise the snippet by setting up structured data. For example, you could set it such that customer reviews and ratings for your brand show up on a snippet for your brand's homepage. Or, you could make the date of your blog posts display alongside the text snippet.
Here's an example of a snippet for a recipe with structured data to show the date of publishing, ratings, reviews, duration of recipe, and number of calories:

That's why I believe that dedicating some thought into your snippets is just as important as boosting your page rankings. After all, it's the first impression that counts – in this case, it counts towards your clickthrough rate and web traffic!
Get featured on the SERPs
We talked about snippets and ranking position, but there's another way to grab attention on the SERPs: Featured snippets.
These are the new 'top position' results, as they appear even above the top search result. Featured snippets often include a longer excerpt from the page, and sometimes this is in other forms like a bulleted list, highlighted answer to a specific query, or in a comparison table format.
As an example, here's a featured snippet from Google in response to my beginner baker question: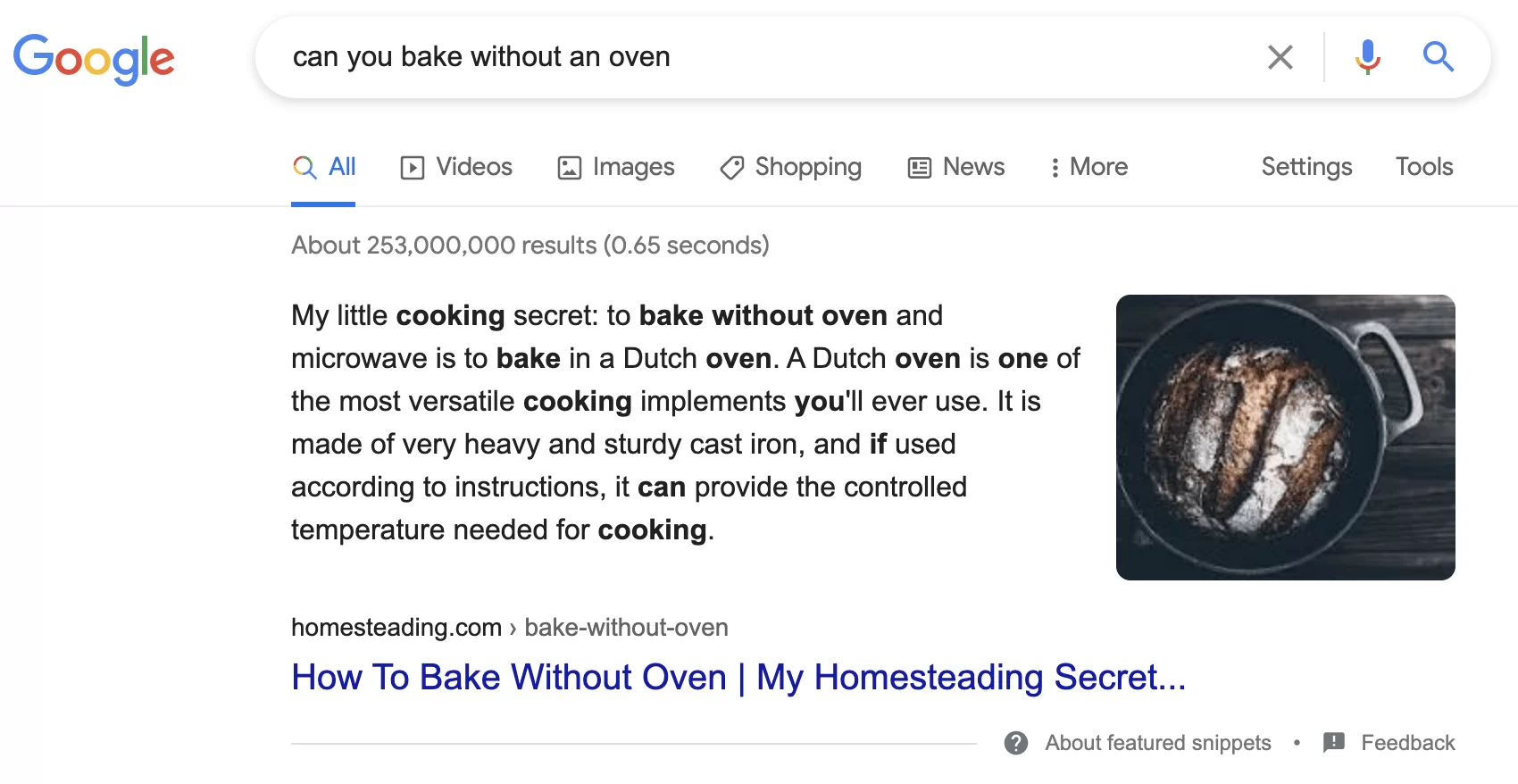 Apart from the prominent position a featured snippet gives you, it also solidifies your brand authority, giving the user a better impression of your brand if you manage to answer their query directly. If they like your answer and want to know more, they are then more inclined to click on your page to find out more.
Optimise for conversions
Ultimately, marketing serves to drive sales and revenue for a company. There's not much use in driving heap loads of traffic to your website, if none of those visitors end up making a purchase or filling in a lead form.
This is where the value of your page becomes important. Once your audience has landed on your page, it is elements like user-friendliness and content relevance that keeps them there, and hopefully convinces them to convert into a paying customer.
A well-rounded SEO plan shouldn't ignore these critical aspects of their website. I assure you, it's definitely worth it once you see your web traffic and leads climbing steadily!
Conclusion
And that wraps it up: These are some of the suggestions I found helpful when implementing SEO campaigns, and hopefully, they also help you make SEO feel less like a mountain to climb, with more defined goals to work towards.
Still overwhelmed? Well, that's why there are professional digital marketing agencies in Singapore who specialise in this! The difficulty lies in nailing the right strategy for the particular business type, industry, and brand. If you're just beginning your foray into SEO for your business, you could benefit from a consultation with our SEO experts in Singapore to illuminate the specific areas your website needs improvement on. Want to know more? Get in touch with us today!