Interactive Emails: Revamping Something Old To A New Trend
Updated on: 29 November 2021
It can be tempting to invest in the most familiar platform, as it is much easier to formulate your strategy since you know the ins and outs of the platform. However, chances are the majority of your target audience are spread out across different channels. Even when it comes to social media, the majority of users for each platform are entirely different.
That is why the social media platforms you choose to advertise on matter. It can often be the difference between success and failure. However, you should not ignore other less explored avenues, such as email marketing, to avoid losing out on potential business opportunities.
Yes! We know what you are thinking. Email marketing sounds like an archaic way of marketing your product. But here is an interesting statistic to ponder. As of 2019, the number of active email accounts has surpassed 5.6 billion. This makes email marketing one of the leading platforms for high click-through rates.
However, email marketing is often overlooked in favour of social media due to its lower engagement rates. But this does not mean it cannot be an effective tool in your digital marketing strategies.  Find out how you can broaden your organic marketing game through these email marketing techniques.
Hover and rollover effects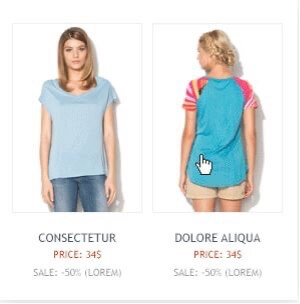 If you are new to interactive email marketing, implementing hover and rollover effects in your email marketing content is an excellent place to start. A hover and rollover effect allows consumers to change the image to another one when their mouse hovers over any image in the email.
This method is an excellent way to show the close-up or the backside of your products. This is a common interactive element many companies utilise when sending their product catalogue to their clients. However, did you know that you can use a rollover for much more than that?
To create an engaging experience, why not ask thought-provoking questions, such as "Can you guess what we are promoting next?" and hide the clues inside a simple box, which may look like this:
From there, recipients will move their mouse and hover over the boxes, revealing the answers to your initial question. It is a simple yet excellent way to create an engaging experience within a single email.
Interactive accordions
When your business has been operating for years, you are bound to have tons of content to show your clients what you can offer. However, the question is, how do you distil all of this into a single email? After all, the readers will get overwhelmed if you flood their inboxes with tons of emails promoting your content.
Here is where the interactive accordions come into play. Try and summarise the critical points of your branding and put them into a single campaign. The formatting may look something like this: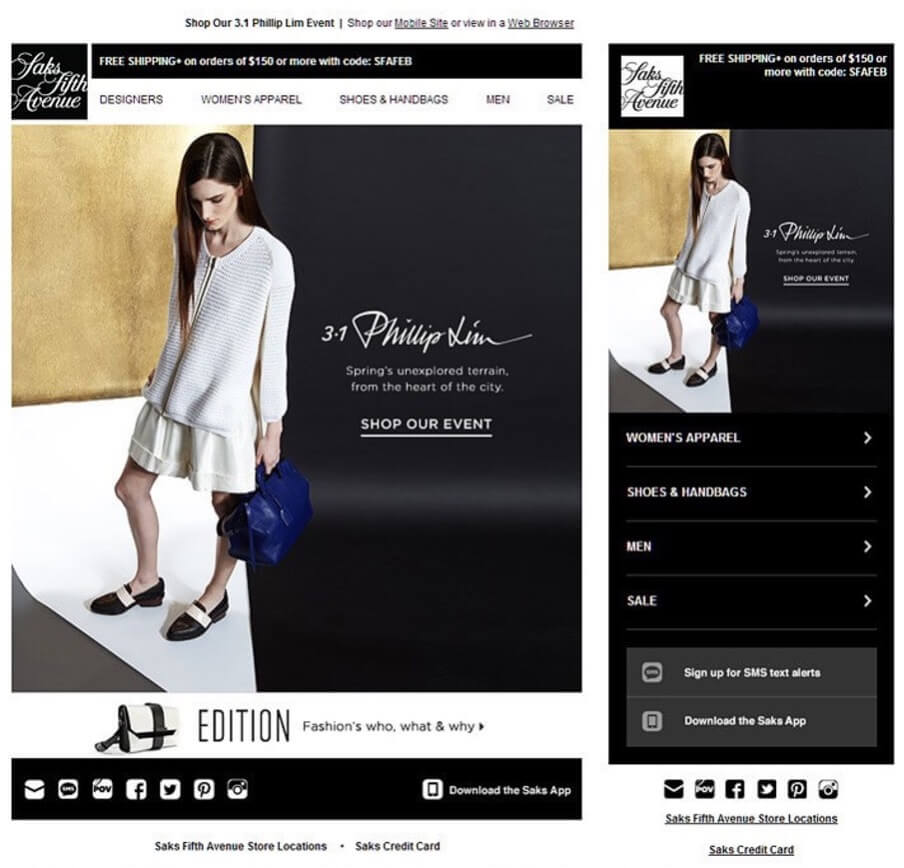 Image credit: Saks Fifth Avenue
As you can see from the example provided, Saks Fifth Avenue managed to condense its products into a single email using interactive accordions. Clicking the individual section will reveal more information on their catalogue and links to the different products that fall under the specific category.
Note the use of a black and white colour scheme that is simple yet engaging, which matches the simple-looking yet fashionable products available under this fashion brand.
Although this email is incredibly instinctive, it doesn't take anything for granted, and the interactive highlights encourage more engagement.
Online forms, testimonials, and product reviews
Image credit: Loox
It is common for digital marketers to include a call-to-action in the emails they send out. The call-to-action will typically prompt consumers to provide testimonials, submit product reviews, or fill out forms on the company's websites.
However, try and imagine this experience from the user's perspective. Can you imagine the frustration when you open an email only to be redirected to an external page?
After all, when this happens, the consumer cannot access their inbox unless they close the page. But if they do so, the progress they have made in the form will be deleted.
This is where interactive emails come into play. It gives users the chance to complete the tasks right from the inbox without being directed to an external website. When customers don't have to exit their inbox to provide a review, they are more obliged to do so.
Gamifying your interactive emails
This may be the ultimate way to add interactivity to your email marketing tactics. While coding your emails to implement a mini interactive game will require a significant amount of work, this is a sure-fire way to catch the consumers' attention.
An interactive game may look something like this:
A holiday-themed game that is appropriate to the timing of your email can provide seasonal fun to the consumers, thereby leaving a positive impression on them. This also demonstrates the boundaries you can push when it comes to email marketing.
A great flourishing touch to add at the end of the short game will be a simple call-to-action – it can be something as simple as sharing this game with your friends on social media.
After all, email marketing is part of a much broader online system and can be enhanced with social media engagement. From there, you can generate even more leads for your business.
Adding email quizzes and surveys
Not only are quizzes and surveys fun for consumers, but it is also a great way to gather information about your current audience. This way, you no longer have to second-guess what your audience wants.
You can make use of these interactive emails to ask questions to your existing clientele. Based on their answers, you will better understand how to direct them to the content they are looking for.
Here is an example of how you can implement a quiz into your email:
Image credit: Designmodo
In this case, this brand uses the quiz to ask its customer base about their technical skills and plans for building a website. This ensures that the company talks to the audience objectively, allowing it to link its clientele to the resources they need based on the results.
Conclusion
While email marketing may seem like a dated way to market your brand, it remains one of the most used features on the internet. Hence, coordinating and implementing a well-thought-out email marketing campaign should still be an essential part of your digital marketing strategy.
Although there is no one-size-fits-all approach to email marketing, you should always test out the features implemented in your marketing emails to determine the elements that work best for you and what requires improvement.