Social Media Marketing: Using Facebook To Promote Your Brand
Updated on: 24 September 2021
Even before the pandemic accelerated the shift from a traditional brick-and-mortar setting to the digital realm, digital marketers have been using social media platforms to promote their brand to a global audience.
This strategy is beloved because it is cost-effective and utilised by many people. It guarantees a high return of investment (ROI) while reaching a significant portion of the target audience. Moreover, it works for any business.
However, many digital marketers fail to grasp the vital aspects of social media and how they can optimise their content to help with promotion. Plenty of them subscribe to the "content is king" maxim, thinking interesting content is all they need to make a name for their brand.
While content is essential, that is not everything you have to consider. If you are relying solely on the hope that people will share and spread your content without carefully considering other factors, you cannot garner as much attention as you desire. As we have shared previously, the advertising platforms you use play a crucial role as well.
There are various factors you need to consider in order for your posts to be well-received on a specific social media platform. As such, you need to have a solid understanding of how to optimise your content for the different platforms.
Wait…what? How could this be? Well, given the number of social media platforms available, it is only natural that each fulfils a niche. However, if you are a novice entrepreneur looking to dabble in digital marketing for the first time, let us share how you can utilise the proper techniques to market your brand on social media. In this article, we will be focusing on Facebook. 
Creating a business page
The good news is, it is free to set up a Facebook page for your business. Once the page has been created, you can do various things with it, such as sharing content and contact information, linking to your company's official website, building a product catalogue, and communicating with the users.
Setting your business page up is simple; let us share how:
Head to facebook.com/pages/create. Do note that you must be logged in to your company's Facebook profile to get started;
Select "Business/Brand";
Enter your business details;
Choose and upload your company's profile and cover pictures;
Go to "Edit Page Info" and fill in the description, contact details, and other relevant business information, such as your organisation's operating hours;
To create your vanity URL, click "Create Page @username". This tool is helpful as it allows your target audience to find you on Facebook easily.
If you want to add a call to action liner, such as "Shop" or "Contact Us", click "Add a Button" under the cover photo.
Types of posts on Facebook
Now that your Facebook Page has been created, it is time for you to share your content with your target audience. However, what is the best content to leave a lasting impression?
Well, when it comes to Facebook, there are various types of posts available. Each has its own unique ways of sparking interest. The style that you ultimately choose to go with will be affected by your social media strategies and goals. Let us take a look at the multitude of options available to you.
1. Facebook text post (a.k.a. status post)
If you have ever used Facebook, you will likely be familiar with the status post. This is the most basic Facebook post, where you include only a short write-up of what you wish to share with your followers.
While these posts are direct, they often aren't the ideal option if you are looking to drum up traffic to your website or convert potential leads into sales. Facebook's algorithm does not prioritise these boring text-like posts and is unlikely to feature said content prominently on your followers' news feed.
However, text posts are ideal for starting a conversation. So if you want to engage your followers personally and ask for feedback on your company services, you can lead with such content. They are also ideal for updating your audience to any minor changes your business is making, such as the change of operating hours.
2. Facebook photo post
Content that features an image tends to garner better engagement than pure-text posts. Bonus points if the photo post contains an attractive image that can grab the attention of a potential customer browsing your news feed. Let us share an excellent example: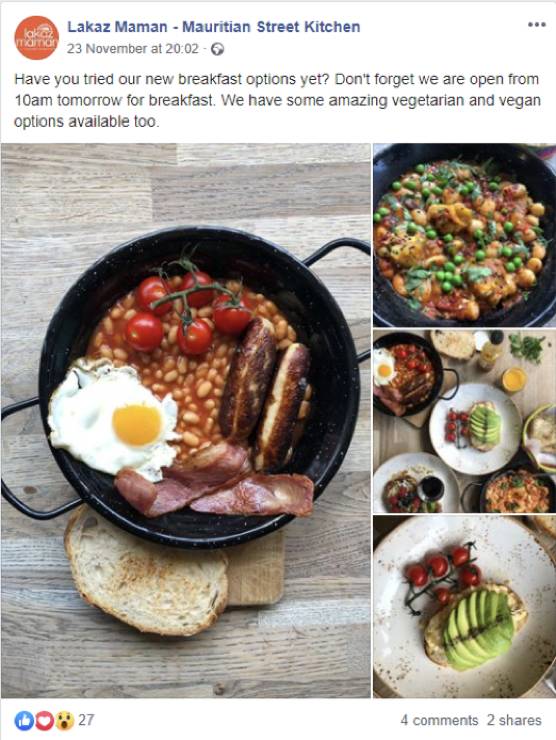 Photos that portray the products that you have available are quite effective. For example, if you own a restaurant, you would want to feature the delicious dishes you have on offer to grab a foodie's attention. Singaporeans love to eat, so the chances are high that you will stop someone in their tracks when they are scrolling through Facebook.
3. Facebook video post
Whether it is a video announcing a new product or a short film telling an engaging narrative, the video format is an excellent way to tell a visual story, which is why they garner higher engagement rates.
Moreover, videos may play automatically in a user's news feed depending on their setting, making it an excellent attention grabber. By pairing audio and visual information together, you can heighten an audience's engagement rate. If your video is informative and well-produced, your audience can comprehend everything they need far better than an article explaining the same information.
4. Facebook live video post
According to studies, live-stream videos can produce six times as many interactions as pre-recorded ones and garner ten times more comments compared to a pre-recorded video, making it an excellent option to connect with your followers.
This format is especially popular for specific segments, such as Q&As and product demos. The aim is to create an active conversation with your followers who are watching it live, so they can better understand your products and have their queries answered.
5. Facebook Stories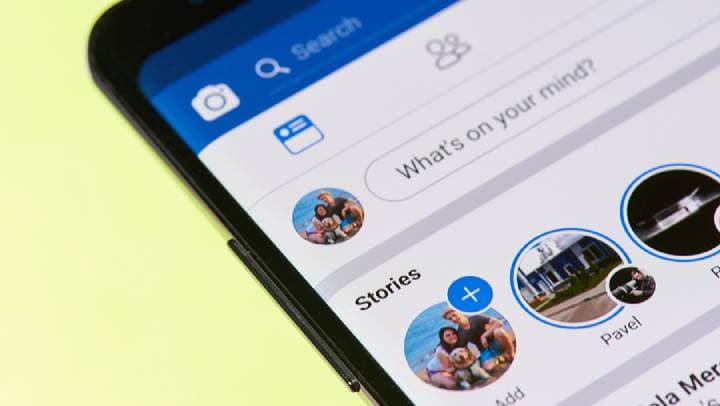 Facebook Stories can feature either photos or short video posts that are shot vertically. Similar to stories featured on Snapchat, they disappear from users' content feed after 24 hours. The duration of a Facebook Story generally lasts between 5 to 20 seconds.
The main benefit of utilising this feature is that your Facebook Stories are always at the top of the News Feed. This means many followers will see your content daily, so you don't have to worry that your content is drowned out by other news vying for your audience's attention. Even though the Stories disappear after 24 hours, that is more than sufficient time for your fans to get a sneak peek of your content.
6. Pinned post
This feature allows you to pin any regular post that you wish to highlight to your followers on the top of your business page. By pinning them, you can ensure the pinned post is the first thing your audience sees when they visit your business page.
If there is a post you want to highlight – whether it is a status, photo, or video post – you can click on the post setting as shown in the image above to pin the post. Once it is selected, the text "Pinned Post" will be highlighted above the chosen content.
This feature is ideal if you have essential content or news that you want to convey to your followers, and you do not want the information to be lost amidst your new posts. Moreover, you can change the setting anything you like, giving you the flexibility to highlight whichever content you want at any given time.
7. Facebook watch party
A Facebook watch party allows you to screen a public video on Facebook, so you and your fans can experience the video together and comment on it simultaneously. Rather than being the host of the video like you are with Facebook live videos, you can participate in the watch-along with your followers.
This feature opens up lots of fresh ways for you to connect with your followers, fans, and community. Moreover, this is a fantastic way to build hype for a new product launch or any upcoming content you have planned.
How to utilise the right post and marketing strategy
By pairing the right post with the most suitable marketing strategy, you can open an abundance of prospecting opportunities. Now that we have covered the possible content strategies you can utilise on Facebook, it is time to look at how you can build a marketing strategy to make the most out of your posts and business page.
Here are a few quick tips:
1. Define your audience
To engage your audience successfully, you have to understand just who you are trying to reach. Ask yourself the following questions:
What is the age range of your target audience?
How often do they use Facebook?
How does your content apply to the target audience?
Facebook Audience Insights is an excellent tool to help you obtain more information on your potential customers. You can source information such as your target audience's age, gender, education, Facebook usage, relationship status, and many more!
2. Set practical goals
To create an effective Facebook marketing strategy, you need a clear goal that is related to your business objectives. It is often tempting to look at Facebook likes as the sole metric to measure your campaign's success. However, if they are not part of your bigger marketing plan, they should not be your only target.
Focus on the actions that will impact your bottom line. These vital metrics include:
Increasing conversions online
Generating leads
Providing better customer service.
Use the goal-setting framework: SMART (Specific, Measurable, Achievable, Relevant, and Time-Bound) to help you craft the end goal you are aiming for. The posts and ads that you create for Facebook should be aligned with these set goals.
3. Optimise your page for engagement
Your marketing goals and strategies are not the only factors to consider. You also have to ensure your target audience know your Facebook page exists. Hence, you need to direct people to your business page and compel them to engage with your posts when they visit.
An easy way to advertise the existence of your Facebook business page is to promote it on your website, otherwise known as cross-promotion. By including the link on your website, those who are already frequent visitors to your site can easily access your Facebook page. You can go a step further by implementing Facebook's share icon on your website or blog.
Your followers also value responsiveness, so interact with them often. Do try and reply to the messages and comments and answer any questions where possible. Updating your content regularly also helps. In fact, browse through your Facebook page regularly to look out for and remove any expired content. The "About" section should also be on-brand, up-to-date, and accurate.
Measuring the success of your strategy with Facebook analytics
Digital marketing is a long-term strategy. As such, it requires regular updates and constant fine-tuning to achieve your marketing goals. It is advisable to utilise tracking and measurement tools so that you can figure out what worked and what didn't. This way, you can learn from your past mistakes, tweak your strategy, and try again. This ensures that you are consistently improving your digital marketing strategies.
Facebook Insights is an excellent tracking tool to consider as it offers data indicating the number of likes, views, and engagement your posts have garnered. It can also determine the types of posts that is the most compatible with your page. This will allow you to conclude if your current content strategy is hitting the right notes with your target audience.
Conclusion
If you have only started dipping your toes into digital marketing, we hope what we have shared has allowed you to gain a better understanding of Facebook advertising. Should you notice your marketing strategies are not achieving the results you are hoping for, it is best to consider seeking the expert view of an experienced digital marketing agency.
At Impossible Marketing, we have handled numerous clients from across various industries. This experience stands us in good stead to assist you with achieving your digital marketing goals, no matter your industry. If you are interested to learn more, don't hesitate to contact us at +65 6208 8111 to get started.