Why I Think Everyone Should Participate In Climb For Hope
Updated on: 8 July 2021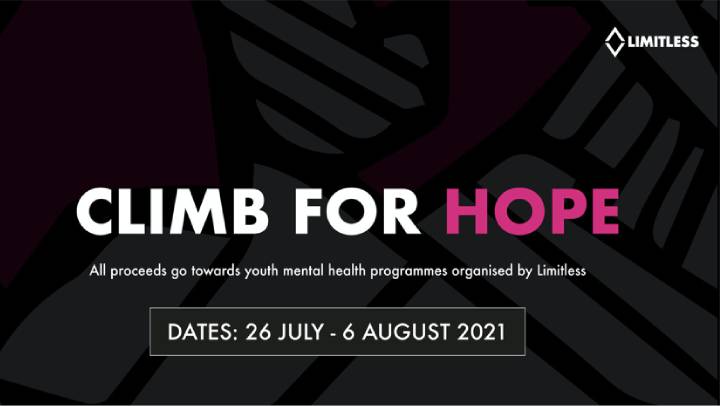 As someone who places immense value on my mental health and that of others, I could not be more excited to learn that Impossible Marketing is partnering with Limitless – a non-profit organisation that is driven by the desire to see every single youth be given an opportunity to realise their maximum potential – to raise awareness on mental health by promoting Limitless's Climb For Hope virtual fundraising event.
Both Limitless and Impossible Marketing realise the challenges youths face in coping with and overcoming their mental illness. While I am glad to say that Singapore has made great strides in recognising and helping those with mental illnesses, some are still afraid to seek the help they need for fear of stigmatisation. Therefore, it is crucial for us to help raise awareness of this issue so more people can be encouraged to approach the relevant parties for help. Allow me to share more about what Limitless is seeking to achieve with the Climb For Hope event and what you can expect when you participate.
What Limitless stands for
Limitless believes that everyone should live for more and that everyone deserves to live life to the fullest. They aim to achieve that goal by empowering the youths of today, regardless of their background, the circumstances that they are in, or what they have been through.
The organisation is also motivated to make sure that poverty, social inequality, and mental issues do not, in any way, hinder the youth from having a voice. This vision, in particular, speaks deeply to me because we now live in a very vocal world that wants to ensure every voice is heard. However, I feel that we can still do more to educate the public about the intricacies and struggles of those with mental health issues. I believe this Climb For Hope event can help shine a light on this subject.
Why mental health should be given importance
The adage goes – no man is an island. Everyone needs to have someone they can turn to for help, including those coping with mental issues. While there are relevant hotlines and outlets that can assist those in need, some youths still struggle to get the help they require from those closest to them.
Support from family members and friends are essential in helping a person deal with their mental health issues. However, some may prefer to keep things close to their vest as they are afraid their relatives and friends will ostracise them when they learn the truth. Moreover, mental health is a topic that is rarely broached for discussion until recently, which means some people may not fully understand what they can do to help those in need.
What you can expect at Climb For Hope
As with any pivotal societal issue, awareness is key. Gaining a clearer understanding of mental illnesses, what causes them, and how each disorder affects a person can help immensely in dealing with this issue. Limitless has done great work to help raise awareness on mental health issues. However, the organisation believes more can be done, which is why it is spearheading the upcoming Climb For Hope virtual event to raise funds for its mental health programmes.
The event, which runs from 26 July 2021 to 6 August 2021, features a workout challenge and an Interactive Mindfulness Session that everyone can participate in to keep themselves physically and mentally active. The workout sessions consist of three levels – beginner, intermediate, and advanced – that take inspiration from the resilience demonstrated by those recovering from mental illness. Each tier will comprise its mix of workout routines, all of which will be carried out over a period of 12 days.
Additionally, the Interactive Mindfulness Session will be made free to all participants who sign up for this event, which is another incentive to convince your friends to sign up with you. Participants can learn about the various mindful practices and how to incorporate them into their everyday lives. Do note that the slots for the Interactive Mindfulness Session are limited, so head over to Limitless's website to register now to secure your place!
Conclusion
At Impossible Marketing, we don't just aim to be the best digital marketing agency in Singapore; we believe in making a difference in the world and that every effort, no matter how small, can positively impact someone's life. This is why our SEO agency believe Climb For Hope is a cause worth championing, and I hope I've convinced you too.