E-commerce SEO: Best Practices For Your Business in Singapore
Updated on: 30 March 2022
Getting more organic traffic to your online business is an ideal way to be in front of potential and new customers. Most companies take the route of using Google ads. However, with the increasing cost of Product Listing Ads (PLAs), it is nearly impossible to succeed in keyword bidding battles, especially with established e-commerce brands.
More often than not, many such businesses do not know what to do and do not work with methods that best suit their e-commerce needs.
This is where having a fundamental knowledge of good e-commerce SEO practice comes in. SEO, or Search Engine Optimisation, is among the best practice any online business can rely on to rank higher on web searches, thus leading to more increased organic traffic to your webpage. To get you started on the journey to building a successful e-commerce brand, we will introduce some of the best and most practical e-commerce SEO strategies you can adopt when planning to drive organic traffic to your online store.
1. Utilising keywords to optimise your listing and webpage
This step should be one of the first things you should look out for before considering any other practices. You want to be sure that your web pages, products, and services have been optimised for potential keywords that might lead your target audiences to you. When planning out keywords for your e-commerce website, you might want to consider:
Put yourself in your customer's shoes: Let us say you are a customer looking for an insulated water bottle. How will you be searching for such products online? Commercial keywords such as "best-insulated water bottle" and "insulated water bottle sales" would be something that consumers would search for. Thinking like your customers would help you get a better perspective on approaching keywords planning.
Keywords intent: Besides commercial keywords, there are also other forms of keywords that direct a particular group of traffic. They are informational keywords and navigational keywords. Informational keywords such as "how to clean my insulated water bottle" leads to blog articles that help spread informative content. Whereas navigational keywords such as "insulated water bottle near me" leads to shops near the consumer's address that sells the product they are looking for.
2. Improving your webpage structure and navigation
The average time spent on a webpage before the user decides to leave is about 10 to 20 seconds. The first impression counts, and if your webpage does not encourage easy navigation, the user is not going to want to stay on the site. Disorganised categories are one of the common problems that most users complain about when it comes to poorly planned web pages. Hence, navigation and structure of webpage are essential for SEO and user experience.
You can do this by adding breadcrumbs. Breadcrumb navigation is a type of site navigation that enables users to pinpoint where they are within the webpage without reference to the URL.
See an example of breadcrumb navigation done by Nike. Without looking at the URL, consumers know that they are in the men's section of shoes on sales.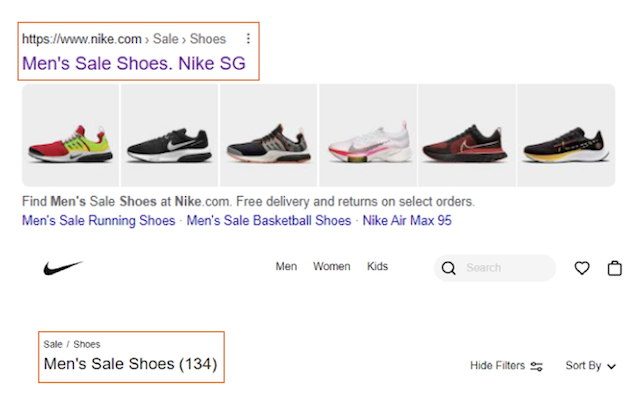 Besides breadcrumb navigation, e-commerce businesses can also improve on their URL structure. You'll want to aim for a URL that is neat without too many characters.
Here is an example of a messy URL:
https://www.yourwebsitename.com/index.php?page=blog/
Here is an example of a neat URL:
https://www.yourwebsitename.com/blog/
A neat URL improves the usability and readability of the webpage for both consumers and Google by being straightforward, meaningful, and intuitive. 
3. Improve and increase page load speed
Page load speed is also one of the key factors in Google's ranking consideration. Page load speed is ideal for linking consumers to the products they are searching for as quickly and efficiently as possible. As mentioned earlier that an average user uses the first 10 to 20 seconds to decide if they want to stay on that page. A page that takes a while to load ruins the user experience that consumers are looking for, which results in poor organic traffic and SEO.
Here are some tips you may want to consider when setting up an e-commerce webpage keeping in mind that it loads quickly:
File size reduction of image: Depending on your budget, you may want to opt for a Content Management System (CMS) that can help host your webpage related audio, videos, and images. Similarly, there is plenty of file optimising applications that are integrated into certain e-commerce webpage providers. Shopify, a popular e-commerce webpage provider, provides plenty of applications that help optimise sites, ranging from free to paid premiums.
Minimising JavaScript and CSS: Eliminating any redundant codes and using shorter functions and variables helps to streamline your loading speed. The lesser amount of data needed to load your site entirely, the better it is for SEO. Google offers a free page performance measurement tool called PageSpeed Insights tool that helps provide a better understanding of your site's performance metrics.
Utilise lazy loading: Instead of loading the entire webpage all at once, lazy loading allows the image, audio, and videos to load only when the consumer scrolls past it on the site. This is particularly useful for e-commerce sites that have a lot of product videos and images on their pages. It helps to significantly and almost immediately improve your performance and SEO. Some e-commerce webpage providers have defaulted lazy loading options, while others might require the business owner to integrate an external lazy loading application.
4. Mobile device optimisation
In 2019, Google announced that they would scan through the mobile version of websites, weigh the site's performance benchmarks, and then rank accordingly. The scan includes ensuring that the site information on both desktop and mobile versions are similar, contents such as videos and images are well-optimised for viewing on mobile devices, and the on-page advertisements do not deter the user's experience on their mobile devices.
This move was made as more people are spending time shopping on their mobile devices rather than desktops.
5. Always include internal links to your categories, blog contents, and products
Besides working on external backlinks, internal linking can have a fast impact on your e-commerce SEO. When you include an internal link to your categories, blog contents, and products, you provide link equity to the targeted page. Google takes internal links to a specific page or product as a sign that priority must be placed on the targeted page or product.
Final thoughts
Increasing organic traffic to our e-commerce site has never been more challenging, especially nowadays, where more brands are turning to e-commerce. However, that does not mean it is impossible to be successful in this venture. While there are many practical tips that many companies follow, these are just some of the tips that we use that have provided results. If you are looking to start an e-commerce web page and are in need of SEO assistance, Impossible Marketing is here to help.
We are a digital marketing agency that provides affordable SEO services in Singapore and have helped many clients across various industries achieve successful campaigns with our range of SEO packages. For more information on some of the best SEO services in Singapore, contact us at +65-6208 8111, and one of our consultants will get back to you ASAP!