Beware Of Scam! Telegram Group Impersonating IM Employee
Updated on: 31 May 2023
Impossible Marketing has gone through several scams and issues, such as the recent misrepresentation of our office. Recently, it has come to our attention that there is a telegram group circulating out there impersonating Impossible Marketing employees that offers rewards for completing merchant prepaid tasks. These scammers have even added an image of our founder, Alan Koh, to boost the authenticity of their scam.
Their ad can be divided into two key categories: Merchant prepaid tasks and merchant benefits tasks.
According to some of their posts, they will announce the merchant prepaid tasks that need to be completed at certain hours. Once completed, you are then able to get up to 60 rupees (SGD$1). However, if you decide not to complete their optional merchant benefit task, you will only receive 40 rupees (SGD$0.66). It may not sound like a lot of money. However, that is only the base reward. What makes the scam slightly more enticing is the added bonus that comes with the completion of tasks.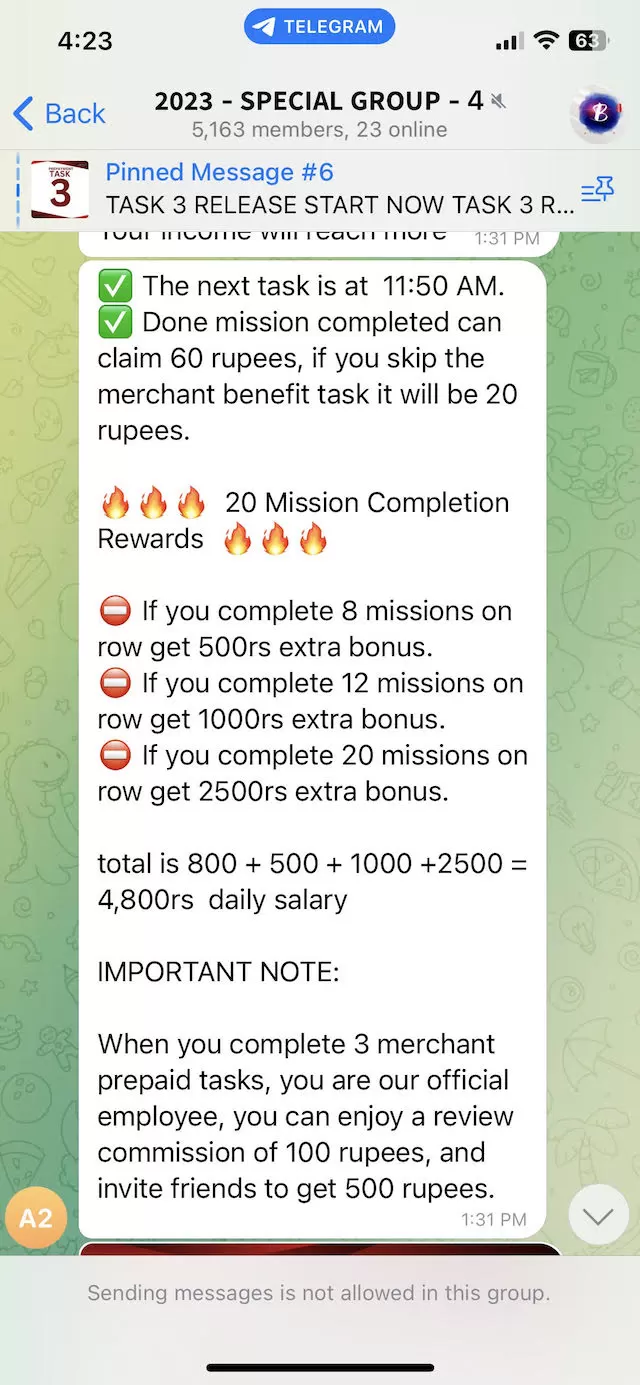 Completing up to 20 prepaid merchant tasks consecutively will earn you an additional bonus of 2500 rupees (SGD$ 40.94). They claim that the bonuses are stackable.
Completion of 8 consecutive merchant prepaid tasks = 500 rupee bonus

Completion of 12 consecutive merchant prepaid tasks = 1000 rupee bonus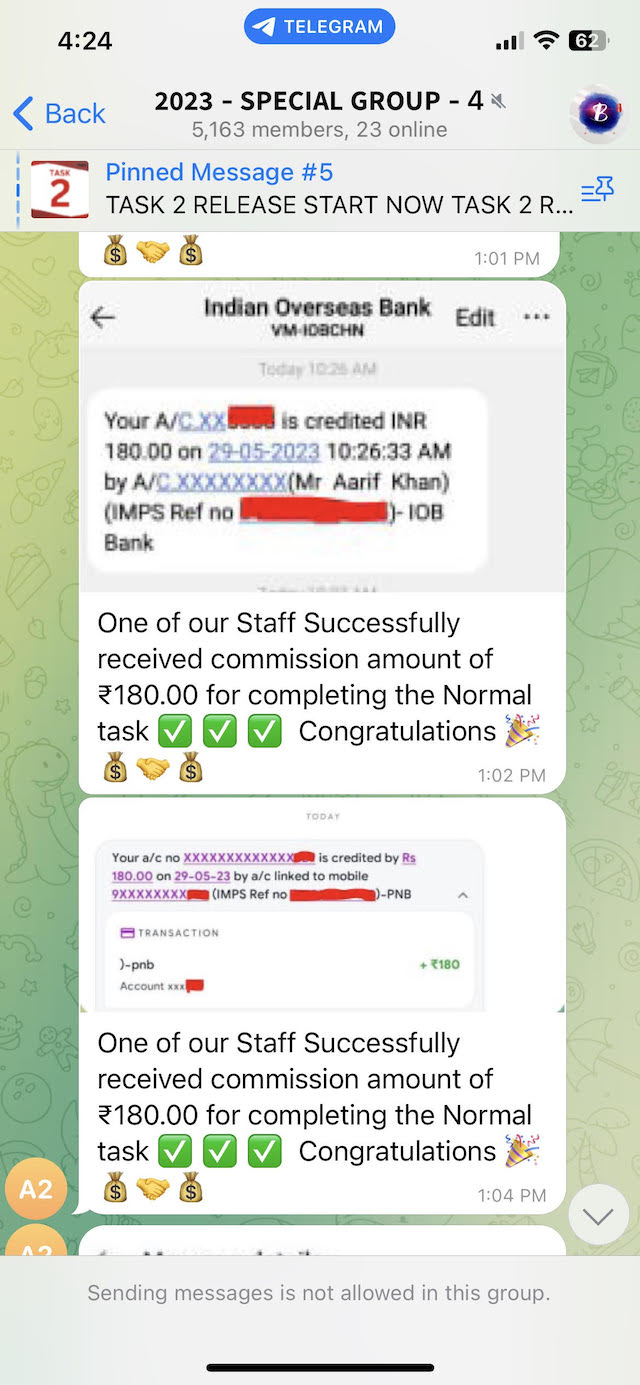 Hence, they claim that just completing 20 consecutive merchant prepaid tasks without doing merchant benefit tasks daily will get you a total of 4,800 rupees (SGD$78.60) a day. Additionally, as long as you complete three merchant prepaid tasks, you will be promoted to being an official Impossible Marketing employee, where you can get an additional 100 rupees per employee review and 500 rupees per friend referral. They even showed proof of payments displaying the commission that their "colleagues" received for completing the merchant prepaid tasks.
That is not all! How can it be considered a well-planned scam if it is not even more enticing? The scammers even threw in more rewards to display the urgency of completing such tasks. When you become an official Impossible Marketing employee, you have one chance to claim a bonus gift. If you complete the merchant prepaid tasks for three consecutive days, you get the chance to claim a bag of rice. Five consecutive days win you the chance to claim a mobile phone. Seven consecutive days win you the chance to claim a motorcycle. You only get one chance to claim any of these gifts, and all you need to do is send your delivery address, and they will deliver it to you.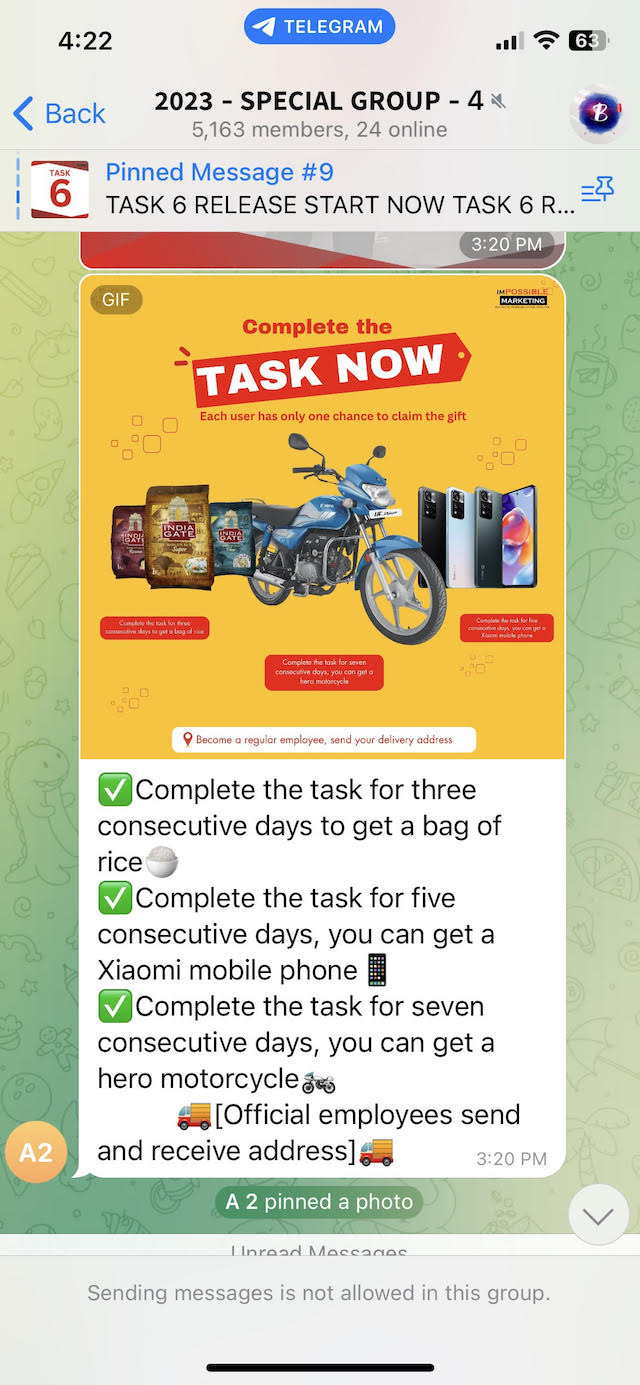 Besides merchant prepaid tasks, they also have additional merchant benefits tasks that offer greater bonuses. According to their ad, completing up to 20 merchant prepaid tasks consecutively will earn you an additional bonus of $39,999 rupee (SGD$655) a day.
As a reputable digital marketing agency in Singapore, we would like to inform potential customers and our clients that we do not offer such benefits to our staff. Neither do we condone such scams. This is not the first time we have had to make a police report on such a matter as we have done previously in a similar case where the scammers posed as Impossible Marketing staff, tricking individuals into paying a sum to get jobs. It is vital that we alert anybody who may have come across this telegram chat not to be enticed by their rewards as well as report it to Telegram.
Conclusion
As always, it is vital to ensure due diligence when it comes to such an unbelievable deal. No legitimate agency in Singapore will conduct such a deal to get more employees. We take such scams seriously and will continue to monitor them. When in doubt, it is highly advisable to contact the affected agency or individual directly.